The 39 Steps *** (1959, Kenneth More, Taina Elg, Brenda de Banzie, Sidney James, Reginald Beckwith, James Hayter, Barry Jones, Faith Brook, Duncan Lamont) – Classic Movie Review 4490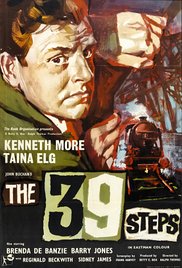 Kenneth More does nicely in a smooth turn in the star part of Richard Hannay in director Ralph Thomas's careful 1959 second screen version of John Buchan's classic 1915 espionage novel. Hannay goes on the run after witnessing a hit-and-run accident involving a woman pushing a pram containing a gun instead of a baby.
The film turns out to be a surprisingly similar unofficial remake of the 1935 Alfred Hitchcock classic The 39 Steps, made professionally well, though without its special flair. However, given that the Hitchcock abandoned most of a novel he claimed to love, it is good just for variety that there are a few extra portions of John Buchan's original used for Frank Harvey's script this time.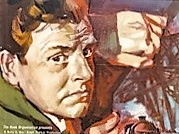 Director Ralph Thomas brings a lot of old-style, traditional craftsmanship to the film and uses his Scottish locations to considerable effect, with Ernest Steward's Eastmancolor photography a great help. More makes a thoroughly likeable, sympathetic hero, but he does not give the extra dimension to the role of being so terribly troubled as his predecessor Robert Donat.
Taina Elg would normally be judged as OK as the female co-star if Madeleine Carroll had not been so unforgettably stunning in the original role. But there are several bits of helpful, frantic scene-stealing from actors normally in comedy films – Sidney James, Reginald Beckwith and James Hayter among them – to liven it up.
By and large, it is a very passable entertainment.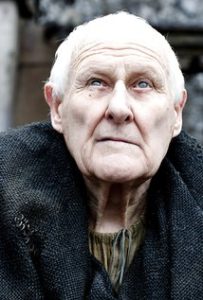 It marks the film debut of the much-loved and distinguished prolific British character actor Peter Vaughan, already aged 36, uncredited as the second police constable on the train.
Peter Vaughan died on 6 aged 93.
Also in the cast are Brenda de Banzie, Barry Jones, Faith Brook, Duncan Lamont, Michael Goodliffe, Jameson Clark, Andrew Cruickshank, Leslie Dwyer, Betty Henderson, Brian Oulton, David Davies, John Harvey, Anthony Sagar, Bruce Seton, Marianne Stone, Michael Brennan, Jeremy Hawke, Sam Kydd, Avice Landone, William Mervyn, John Richardson, Bill Simpson, Harry Towb and John Snagge.
It was remade again in 1979 with Robert Powell and as a BBC TV movie in 2008 with Rupert Penry-Jones as Hannay.
© Derek Winnert 2016 Classic Movie Review 4490
Check out more reviews on http://derekwinnert.com