Tales from the Crypt *** (1972, Joan Collins, Peter Cushing, Ralph Richardson, Richard Greene, Nigel Patrick, Barbara Murray, Roy Dotrice, Robin Phillips, Patrick Magee, Geoffrey Bayldon) – Classic Movie Review 3105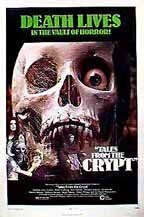 Director Freddie Francis's ghoulish 1972 British portmanteau chiller stars Sir Ralph Richardson as The Crypt Keeper, an evil monk, who shows a vision of the future to five people lost on a tour through some catacombs with their guide (Geoffrey Bayldon) and trapped in a crypt. The Crypt Keeper suddenly appears and tells them five stories.
Tales from the Crypt is a typical Amicus horror compendium of five tales – not from the crypt exactly, but actually from William M Gaines's, Al Feldstein's and Johnny Craig's comic book stories Tales From The Crypt and The Vault of Horror.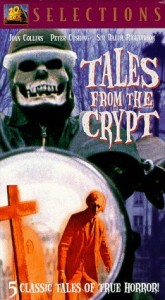 It also stars Joan Collins as Joanne Clayton in segment 1 And All Through The House, Ian Hendry as Carl Maitland in segment 2 Reflection of Death, Peter Cushing as Arthur Edward Grimsdyke in segment 3 Poetic Justice, Richard Greene as Ralph Jason in segment 4 Wish You Were Here and Nigel Patrick as Major William Rogers in segment 5 Blind Alleys, as well as Barbara Murray, Roy Dotrice (as Charles Gregory in segment 4 Wish You Were Here), Robin Phillips, Patrick Magee.
The excellent cast seem to be enjoying themselves in these effective yarns with plenty of wry black humour and well-staged shocks. More bizarre would have been even better, but it is still good enough. Richardson stamps his strong personality on the show and cements the yarns together, with the help of producer Milton Subotsky's effective screenplay. The final tale's quite gory.
Also in the cast are Marty Goddey, Oliver MacGreery, Chloe Franks, Paul Clere, Sharon Clere, Angie Grant, Susan Denny, Frank Forsyth, Tony Wall, Harry Locke, George Herbert, John Barnard, Carl Barnard, David Markham, Edward Evans, Ann Sears, Irene Gawns, Kay Adrian, Clifford Earl, Manning Wilson, Peter Thomas and Hedger Wallace.
Cushing, Magee, Patrick and Richardson give the standout performances. Although top billed, Joan Collins has only 15 lines.
Sequel: The Vault of Horror (1974). A TV series followed (1989–1996).
Dr Terror's House of Horrors (1965), Tales from the Crypt (1972), Vault of Horror (1973) Tales That Witness Madness (1973) and From Beyond the Grave (1974) are among Amicus's portmanteau / anthology films. Director Freddie Francis's 1967 Torture Garden, The House That Dripped Blood (1971) and Asylum (1972) are the three Amicus portmanteau films written by Robert Bloch and based on his own stories.
RIP Roy Dotrice OBE (26 May 1923 – 16 October 2017), who was notable in Amadeus (1984) as the composer's father, Leopold Mozart.
© Derek Winnert 2015 Classic Movie Review 3105
Check out more reviews on http://derekwinnert.com