Amadeus ***** (1984, F Murray Abraham, Tom Hulce, Jeffrey Jones, Elizabeth Berridge, Roy Dotrice) – Classic Movie Review 112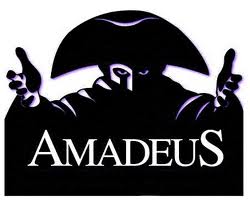 The winner of eight Oscars, including best picture, director and screenplay, this 1984 triumph is a magnificent film of lavish and unique brilliance, with a marvellous cast and brilliant director working at the peak of their game.
F Murray Abraham won the best actor Oscar for his brilliantly astute and canny performance in the part of a lifetime as the 'the patron saint of mediocrity', Antonio Salieri, the merely average court composer for Hapsburg Emperor Joseph II (Jeffrey Jones), a man whose terrible destiny from God was to recognise his own shortcomings and genius in another. For this, Salieri is the sworn enemy of the God who has thus treated him.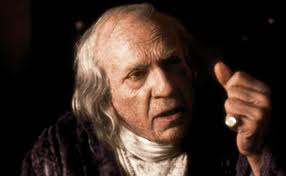 Salieri becomes insanely jealous of loutish, foul-mouthed musical genius Wofgang Amadeus Mozart (Tom Hulce), who died at 35, perhaps (it's suggested here) by Salieri's hand, since, 30 years later, after attempting suicide, Salieri makes a confession to a priest claiming to have murdered Mozart by poisoning him.
This is a truly wonderful production, a labour of love all round, gloriously filmed on location in Prague by inspired director Milos Forman, with amazing production values, and astonishing care and imagination in the period re-creation.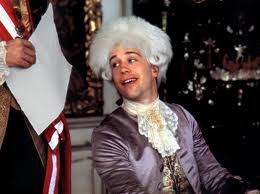 Securely based on a witty, clever script by Peter Shaffer (cleverly and cinematically rewriting his own 1979 hit play), it's packed to overflowing with great music, sumptuous costumes (and wigs!), stupendous performances and thrilling big dramatic moments. You even get used to the American accents after a bit, apart from Englishman Simon Callow's, in the sole let-down of the film, as Emanuel Schikaneder. Callow created the role of Mozart in the 1979 stage production: it's sad he didn't get the role in the film and sadder that he's poor in it. Paul Scofield, then Frank Finlay played Salieri in London: Tim Curry and Ian McKellen played Mozart and Salieri on Broadway in 1980.
Nearly the match of Abraham, both Hulce (also nominated as best actor) and Jones are simply stupendous, and also deserved Oscars. Sadly, both Hulce and Abraham couldn't both win, and Hulce missed out. Roy Dotrice is also notable as the stern and sombre father, Leopold Mozart.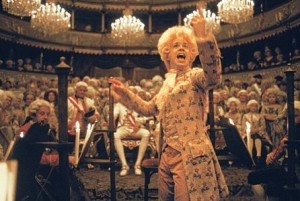 We ought to mention the music! This isn't just a play. It's a play about musicians and with music, Mozart's music. The performances by The Academy of St Martin in the Fields under conductor Neville Marriner are breathtaking – The Marriage of Figaro, Don Giovanni, The Magic Flute, The Lacrimosa etc. What a soundtrack!
The three-hour film Amadeus: The Director's Cut was released in 2002 with 22 extra minutes – some essential, some valuable, some padding – and an ear-bashing new stereo soundtrack. Time and the fresh lick of paint serve only to confirm Amadeus's lavish and unique brilliance. This magnificent revival reveals Hulce, Abraham and Jones all at the apex of their acting prowess. Kenneth McMillan's cut role of Michael Schlumberg is restored in this version, finally making sense of the story.
'So there it is': Emperor Joseph II.

Sir Peter Shaffer, the English playwright and screenwriter who won an Oscar for Amadeus and a nomination for Equus, died on 6 June 2016, aged 90.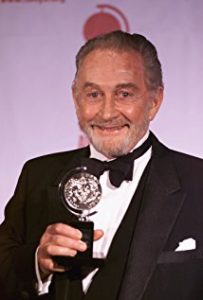 RIP Roy Dotrice, who died on 16 aged 94.
© Derek Winnert 2013 Classic Movie Review 112
Check out more reviews on http://derekwinnert.com/