Smokey and the Bandit **** (1977, Burt Reynolds, Jackie Gleason, Sally Field, Jerry Reed, Mike Henry, Paul Williams, Pat McCormick) – Classic Movie Review 4166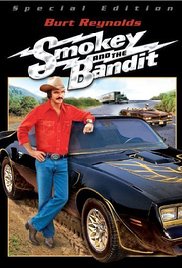 Director Hal Needham's tremendous 1977 action comedy stars Burt Reynolds in one of his most famous and popular iconic roles as the Bandit, who tries to outrun cop Smokey on the road when he is hired to run a tractor trailer full of beer over county lines.
Jackie Gleason also stars as pesky Sheriff Buford T Justice (aka Smokey) of Portague County, who is in hot pursuit of the Bandit, in this great huge fun, slickly made, stunt-packed extravaganza from action director Needham, later Reynolds's partner on Cannonball Run and Hooper.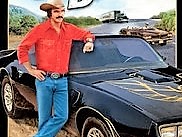 Reynolds is on top form in one of his career-defining roles, running a truckload of illegal beer across the US assisted by Cledus aka the Snowman (Jerry Reed) and hindered by feisty hitchhiking bride-to-be Frog (Sally Field), who has just jilted Buford's son Junior (Mike Henry) at the altar. Bandit and Cledus take on a dare from big-shots Big and Little Enos (Pat McCormick, Paul Williams) to pick up the truckload of beer from Texas and return it in a certain time.
Genial comedic chaos ensues in this amiable slap-bang adventure that shows off the famous Reynolds twinkle at its brightest in one of his biggest hits. It is Needham's début as director. It was incredibly popular and the inevitable sequels followed in 1980 with Needham's Smokey and the Bandit II and 1983 with Smokey and the Bandit Part 3.
Also in the cast are Alfie Wise, George Reynolds, Macon McCalman, Linda McClure, Susan McIver, Laura Lizer Sommers, Michael Mann, Lamar Jackson, Ronnie Gay, Quinnon Sheffield, Paul Sorenson, Warde Q Butler, Hank Worden and John Schneider.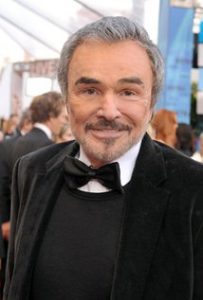 Reynolds was 80 on 
© Derek Winnert 2016 Classic Movie Review 4166
Check out more reviews on http://derekwinnert