Smokey and the Bandit Part 3 * (1983, Jackie Gleason, Jerry Reed, Paul Williams, Mike Henry, Pat McCormick) – Classic Movie Review 4167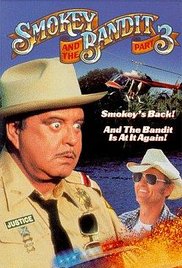 Director Dick Lowry's feeble 1983 action comedy brings Smokey back, but beaming original star Burt Reynolds gives this one a miss (except for a quick cameo as 'The Real Bandit') while his buddy Cletus (Jerry Reed) takes over the Bandit role, once again on the run from Smokey (Jackie Gleason) the pesky battling lawman, Sheriff Buford T Justice.
This second sequel, shakily built as a showcase for the popular Gleason, is easily weakest of the series with the formula low on gas, gags and sparkle. Smokey and the Bandit (1977) and Smokey and the Bandit II (1980) were way better.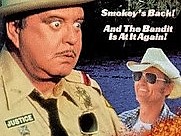 Mike Henry, Pat McCormick and Paul Williams also return as Buford's son Junior and local big-shots Big and Little Enos. Also in the cast are Colleen Camp as Dusty Trails, Faith Minton, Sharon Anderson, Silvia Arana, Alan Berger, Raymond Boucard, Connie Brughton, Earl Houston Bullock, Ava Cadell, Cathy Cahill, David S Cass Sr and Leon Cheatom.
The writers are Stuart Birnbaum and David Dashev. There are some nudity and swearing. It runs  extended cut.
© Derek Winnert 2016 Classic Movie Review 4167
Check out more reviews on http://derekwinnert