Scarface ***** (1983, Al Pacino, Michelle Pfeiffer, Steven Bauer, F Murray Abraham, Robert Loggia, Mary Elizabeth Mastrantonio, Miriam Colon, Paul Shenar, Harris Yulin, Pepe Serna) – Classic Movie Review 51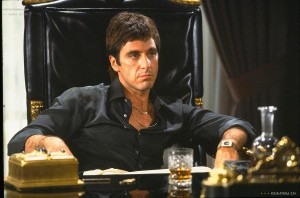 'The world is yours.'
Director Brian De Palma's 1983 all-stops-out remake of Howard Hawks's 1932 classic gangster thriller with Paul Muni is now a classic in its own right. Al Pacino appears in one of his key roles, his image still famous on T-shirts everywhere. As 42 people die, it was a new milestone in screen violence (and foul language with 226 uses of the F word) for the 80s as its predecessor was for the 30s.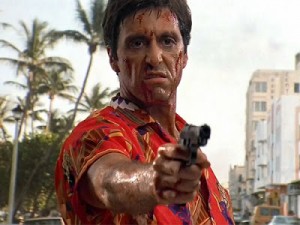 Though giving a florid, mannered, Method-style performance, Pacino keeps control of the lurid, wayward part and the sizzling screen, and he is chillingly commanding as the ragingly angry mobster Tony 'Scarface' Montana, now a Cuban immigrant involved in becoming a powerful drugs baron in Miami.
And all the main co-stars also make a very strong impression. Steven Bauer, the only real-life Cuban in the main cast, is extremely impressive in his best role ever as Montana's buddy Monolo Ribera, aka Manny Ray, who arrives in the US with Montana in 1980.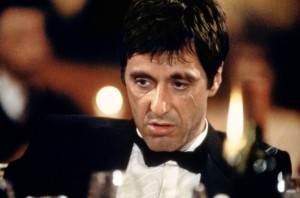 First they are hired by Omar Suarez (F Murray Abraham), and end up with Colombian crooks' money, then Montana meets his new boss, drug kingpin Frank Lopez (Robert Loggia), falling for his woman (Michelle Pfeiffer). All three actors are outstanding, as are Mary Elizabeth Mastrantonio as Montana's wife Gina, Miriam Colon (only four years older than Pacino!) as Mama Montana, Paul Shenar, Harris Yulin and Pepe Serna. It's a great cast on top form.
If there's a problem with the movie, it is that De Palma keeps piling on more and just doesn't know when to stop. And, after a thrillingly exciting start, the law of diminishing returns gradually operates and the long, 170-minute film finally slightly runs out of steam, staggering a bit on to its shockingly bloody climax.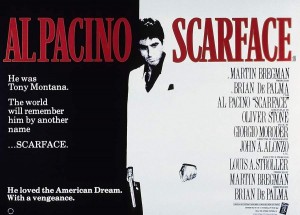 But there's some great, dazzling, brilliant stuff here, with crackling dialogue and superb sequences all along the way in a major cult film milestone that's one of De Palma's best. And thanks to John A Alonzo's eye-catching Miami location cinematography and Ferdinando Scarfiotti's amazing set designs, this is one hell of a superb-looking movie.
It's not a polished, craftsmanlike movie like The Godfather but it makes its impact by being raw, rough and ready. Giorgio Moroder's score produces a particularly lively 80s-style soundtrack that captures the era. Elizabeth Daily performs Shake It Up and I'm Hot Tonite.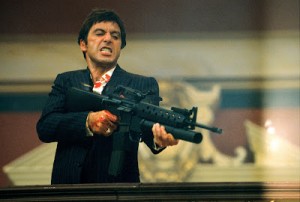 The crackling screenplay is written by Oliver Stone, who also wrote the star role in Born on the Fourth of July for Pacino in the late 70s (though Pacino passed on it and Tom Cruise eventually actually played it in 1989). Abandoning original name Tony Camonte, Stone renamed his hero after football player Joe Montana.
The original plan actually to remake the Chicago-set Scarface was abandoned for cost reasons, though, after locating the story in Miami they shot most of the film in LA. Understandably, Cubans were upset by their portrayal in the movie and gays objected to the hero's much repeated homophobic insult 'maricon'.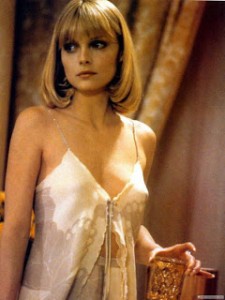 It was re-released in cinemas in 2003 in its the 20th anniversary edition, which has a remastered 35mm print and rerecorded sound effects. It might shock The Godfather fans, but Pacino says it's the favourite of his own films. It's dedicated to Howard Hawks and Ben Hecht, the director and screenwriter of the original 1932 Scarface.
Pacino and Michelle Pfeiffer reteamed for Frankie and Johnny in 1991.
Words of wisdom from Montana: 'I always tell the truth, even when I lie.' Go figure.
In November 2014 it was announced that Pacino is set to reunite with his De Palma for a thriller called Retribution about an ageing hitman and a cop who form an unlikely partnership as they try to bring down a Philadelphia child pornography ring. It's a remake of Erik Van Looy's Belgian thriller The Memory of a Killer.
Reviews of The Discovery House treatment center: http://www.rehabs.com/listings/the-discovery-house-872455425/
See also reviews of the original 1932 Scarface, The Godfather and Heat.
http://derekwinnert.com/scarface-1932-classic-film-review/
http://derekwinnert.com/the-godfather-classic-film-review-2/
http://derekwinnert.com/heat-classic-film-review-225/
© Derek Winnert 2013 Classic Movie Review 51
Link to Derek Winnert's home page for more film reviews: http://derekwinnert.com/