Scarface ***** (1932, Paul Muni, George Raft, Boris Karloff, Osgood Perkins) – Classic Movie Review 52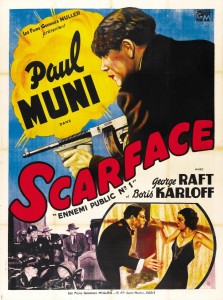 Based on the novel by Armitage Trail, director Howard Hawks's 1932 release is still an all-time great gangster movie, and wears remarkably well given its venerable age. It's a troubling, but thrillingly exciting film, a milestone in the portrayal of screen violence.
In a role clearly based on Al Capone, the now little remembered 30s superstar Paul Muni is at the peak of his powers as Chicago mobster Tony Camonte, an insanely troubled and violent man who goes on a crime and killing spree. All the while personally he loves his sister Cesca (Ann Dvorak) obsessively, just as James Cagney loves his mother in White Heat (1949).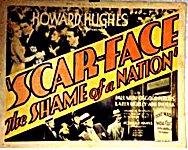 Osgood Perkins (father of Anthony) plays Johnny Love, who becomes crime boss of a bootleggers' syndicate, after he orders his predecessor's murder at the hands of his supposed bodyguard Camonte. The latter rises to No 2 in the gang, but proves a loose cannon, killing everyone in his way to the top.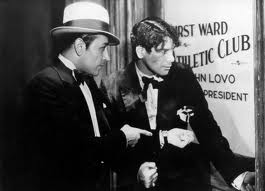 The film's power might have faded slightly as you would expect over so many years, but it remains a treasured cinema classic and an absolute must-see for Muni's extraordinarily intense and exuberant performance, the chilling story, Ben Hecht's richly detailed work on the screenplay, the inventively staged bursts of violent action and Howard Hawks's inspired, totally dynamic direction.
George Raft (in his tenth film after his debut in 1929) as Rinaldo and Boris Karloff as Tom Gaffney are also memorable among the cast.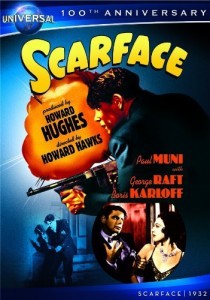 A sophisticated movie, it gains power and subtlety by its ambiguous approach and attitude to its underworld characters, simultaneously seeming to both condemn and be sympathetic towards gangs and mobsters, glamorising them and being shocked by their atrocities. When it ran into censorship problems, producer Howard Hughes spent a year battling US censor boards, and it was cut for violence in a second version and subtitled 'The Shame of the Nation'.
Also in the cast are Karen Morley, Vince Barnett, C Henry Gordon, Henry Armetta, Edwin Maxwell, Inez Palange, Tully Marshall, Harry J Vejar, Marjorie Black, Purnell Pratt, Charles Sullivan, Harry Tenbrook, Hank Mann, Paul Fix, Howard Hawks and Dennis O'Keefe.
It is written by Ben Hecht, Seton I Miller, John Lee Mahin, W R Burnett and Fred Pasley, shot in black and white by Lee Garmes and L W O'Connell, produced by Howard Hughes, scored by Adolph Tandler and Gus Arnheim, and designed by Harry Olivier.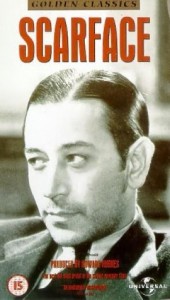 Director François Truffaut teasingly said of it: 'This isn't literature. It may be dance or poetry. It is certainly cinema.' Ironically, Capone was a big fan and enjoyed his own personal copy of the movie. It was reworked by director Brian De Palma in another cinema classic in 1983 with Al Pacino, again as Scarface.
http://derekwinnert.com/scarface-classic-film-review-51/
© Derek Winnert 2013 Classic Movie Review 52
Link to Derek Winnert's home page for more film reviews: http://derekwinnert.com/