Ripley's Game **** (2002, John Malkovich, Dougray Scott, Lena Headey, Chiara Caselli) – Classic Movie Review 108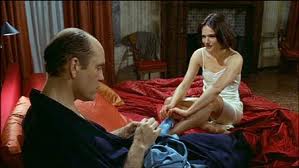 Patricia Highsmith's distinguished, chilling crime novel Ripley's Game (the third book in her Tom Ripley sequence) becomes a slick, polished and riveting pulp fiction thriller in 2002 in the expert hands of an unexpected film-maker in the director of The Night Porter, Liliana Cavani.
Dougray Scott stars as a terminally sick English picture framer, Jonathan Trevanny, living with his wife Sarah and little son Matthew in rural northern Italy, who reluctantly agrees to murder of two lowlife victims he doesn't know for money to leave to his family.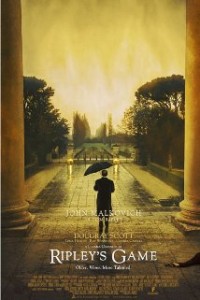 Following on from The Talented Mr Ripley (1999), John Malkovich walks into Matt Damon's shoes as the talented, psychopathic anti-hero Mr Tom Ripley for a sizzling sequel that inspires the excellent but variable star to give one of his best performances, moving suddenly from an apparently cultured exterior into murderous moods of jealousy, anger and revenge.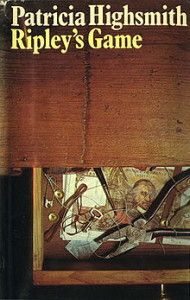 This time, an older, wiser, more cultured but no less dangerous Ripley plots with sleazy Cockney lowlife Reeves Minot (Ray Winstone, giving the Ray Winstone turn a major workout) to talk the dying Dougray Scott into going to Berlin to kill a Russian mob boss who is 'out of order'.
There are many clever scenes, but the murder on the train is especially brilliant, mixing edge-of-seat tension with blackest-comedy laughs. Also dazzling is the scalding sequence where Malkovich defends his Palladian mansion under attack from the Russian mob's goons.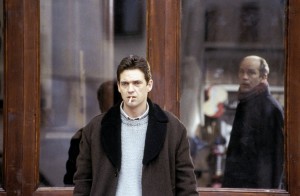 In a boys' movie, Lena Headey as Scott's wife Sarah and Chiara Caselli as Malkovich's wife Luisa have less well defined – and frankly less interesting – roles. But they have Highsmith to thank for that. They make the most of them anyway. Cavani creditably provides the efficient, pretty faithful screenplay with Charles McKeown, but the book must be easy to adapt, it's all there on the page.
Malkovich seemed the wrong choice for Ripley, but he triumphs. Ditto Cavani.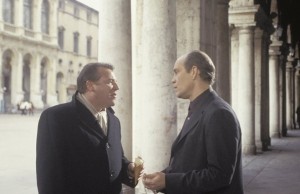 The movie was filmed at Palladio's Villa Emo in Fanzolo, northern Italy, which is used for Ripley's house. And the theatre at the end is Palladio's magnificent Theatro Olimpico in Vicenza, near Venice, the same one used in Joseph Losey's 1979 Don Giovanni.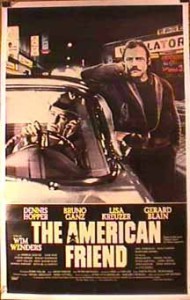 Ripley's Game was previously filmed, also in Europe, by Wim Wenders in 1977 as The American Friend with Dennis Hopper as Tom Ripley.
Alain Delon plays Ripley in Plein Soleil (1960), which was remade, very differently, in 1999 as The Talented Mr Ripley with Matt Damon. Barry Pepper plays him in Ripley Under Ground in 2005.
© Derek Winnert 2013 Classic Movie Review 108
Check out more film reviews on derekwinnert.com