The Talented Mr Ripley ****½ (1999, Matt Damon, Gwyneth Paltrow, Jude Law) – Classic Movie Review 41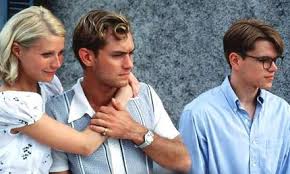 In a career-best performance, a dazzling Jude Law almost steals the show from under Matt Damon's nose as Dickie Greenleaf, an over-indulged, rich, young American ex-patriate living the high life in Mongibello, Italy, in the late 1950s.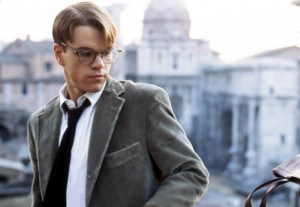 The psychotic, possibly schizophrenic, perhaps homosexual, certainly talented Mr Tom Ripley (Damon) is sent by Greenleaf's rich dad Herbert (James Rebhorn) to bring the prodigal son Dickie back to America. But Dickie is entirely happy with his dolce vita existence there, with his jazz, his women and his over-devoted girlfriend Marge Sherwood (Gwyneth Paltrow). Happy, that is, at least until Ripley comes along. Ripley adores Dickie's lifestyle and person so much that he actually wants to have it for himself and actually be him.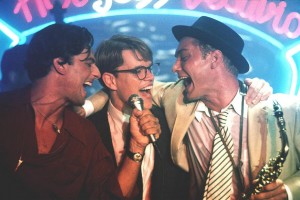 For his scenes in the film Law is stunning, but his role is a sprint and the Ripley part is a marathon. And Damon is very, very good indeed, excellently mousy at the start and a creepy charmer later. Rebhorn, Cate Blanchett's amorously-inclined American socialite Meredith Logue and Philip Seymour Hoffman as Dickie 's revolting buddy Freddie Miles, fat and sweaty and dangerously inquisitive, are all also spot on in support.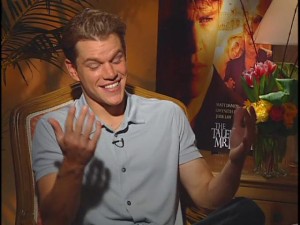 Writer-director Anthony Mingella tried to suggest that his screenplay is totally faithful to Patricia Highsmith's source novel, but it isn't, though it is entirely satisfactory in its own right. Unlike the 1960 first film version of the novel, Plein Soleil, it largely keeps the faith with Highsmith's ending.
Although changing the nature of Ripley is infuriating and the reason for the introduction of a couple of new main characters is baffling, producing a much longer film than necessary or desirable. The English gay character played by Jack Davenport, and Ripley's relationship with him, are particularly annoying, betraying Highsmith at the end.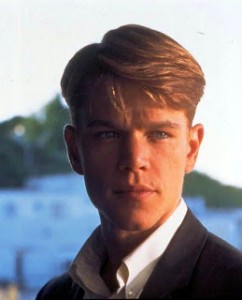 This film takes the same dip that afflicts Plein Soleil when Dickie Greenleaf disappears from the story. Curiously, that was never a problem in the novel, but you can see how that would work when a charismatic actor takes on the role. But, after a little hiccup and pause for breath, Damon gets it sparked up again. He's quite mesmerising. It's a brilliant role to play and he plays it brilliantly.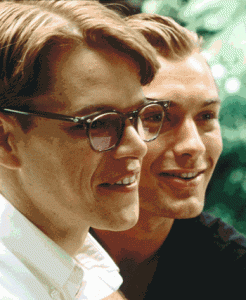 It's beautifully filmed by cinematographer John Seale on location in Rome, Naples, Palermo, Procida, Ischia, Anzio, Porto Ercole, Venice and New York City, though this does slightly turn the movie into a gorgeous travelogue and alluring advert for the Italian Tourist Board.
Sequel: Ripley's Game in 2002 with John Malkovich as Ripley. Malkovich is great, but it's a real pity Damon didn't do a couple of sequels. It's still not too late.
http://derekwinnert.com/plein-soleil-film-review/
http://derekwinnert.com/ripleys-game-classic-film-review-108/
© Derek Winnert 2013 Classic Movie Review 41
See more film reviews on derekwinnert.com