Plein Soleil **** (1960, Alain Delon, Maurice Ronet, Marie Laforêt) – Classic Movie Review 173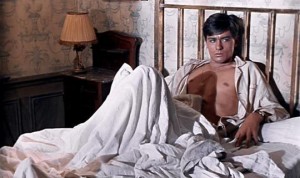 This fascinating but flawed French 1960 version of Patricia Highsmith's brilliant thriller The Talented Mr Ripley betrays the source work, but comes up with something utterly compelling in its own right.
Director René Clément engagingly eroticises the young and mesmerisingly beautiful Alain Delon (aged 24), training his camera lovingly over the actor's usually stripped torso. However, dangerously alluring though he is, Delon is hopelessly miscast as Highsmith's anti-hero Tom Ripley, a blank nobody who has nothing and covets everything, becomes somebody by taking on somebody else's stuff and life, and is the supreme advantage-taker for whom murder is just another logical step in getting what he wants.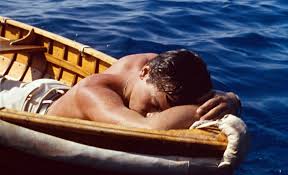 Ripley has been hired by American industrialist Herbert Greenleaf (Barbel Fanger) to bring his son Philippe [Dickie in the novel] Greenleaf (Maurice Ronet) home from Italy. But Philippe is having too good a time with Ripley in Mongibello, near Naples, and has no intention of going home.
Philippe's girlfriend Marge (Marie Laforet) and another American, Freddy Miles (Bill Kearns), are mighty unimpressed by Ripley, who soon finds himself ready to try on Philippe's clothes, impersonate him, forge his signature and more. But Inspector Riccordi (Erno Crisa) is on Ripley's trail….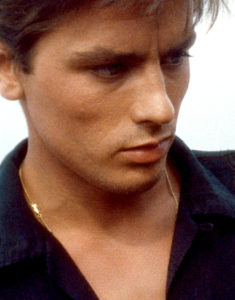 Delon portrays Ripley as a bisexual gigolo, and his bonding with Ronet's Philippe is blatantly homoerotic, producing powerful psychological undertones that reflect the Highsmith story. But Delon cannot manage the perpetual sense of cobra-like danger inherent in Ripley.
The quintessence of Sixties cool, he seems too much like an impetuous spoiled brat, not the scheming pragmatist and chancer always plotting and ready to kill. And he is so alluring that it is impossible to believe that Philippe would spurn him for the dreary, clingy Marge.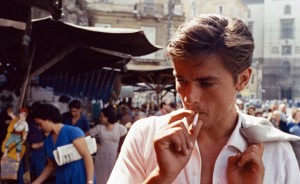 The movie is beautifully filmed almost entirely outdoors by cinematographer Henri Decae. It would be hard to bring a sense of darkness and banal evil to these idyllic, Italian locations (which would better suit a Bond film) and the movie doesn't seek to. There is no sense of film noir in filming a story that seems to beg for it. You would have to turn the colour off and watch it in black and white for it to look noirish. Nevertheless a long, two-hour epic suspense thriller rattles along enthrallingly with most of the riveting details and trappings of Highsmith's psychological mystery novel still intact.
Clément's stylish, un-clichéd direction is often surprising, subtle and unpredictable, bringing lots of tension and atmosphere. He manages the quiet moments and big set pieces with great flair. The best scenes are perhaps (1) when Ripley is desperately struggling to get a corpse out of Philippe's apartment, mixing herculean effort with black comedy, (2) when he is caught by Philippe trying on his clothes, (3) when Ripley is endlessly practising Philippe's signature before turning his passport onto his own, and taking on his personality, becoming him, and of course, (4) the murder sequences.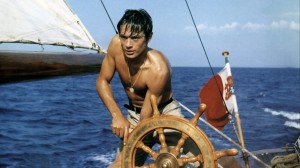 Though they cannot suggest for a moment that they are Americans, Delon and Ronet (in a marvellous portrait of fat-cat hedonism) are utterly compelling, quite riveting in fact – the movie suffers when Ronet disappears – and the film's main attractions. But the other performances are very ragged and over-stated, with Laforet fake and vapid and Kearns and Crisa hammy and florid.
Casting French actors and a European sensibility over this work has harmed it slightly. And the new ending is entirely wrong, an infuriating, especial betrayal of the source work. Highsmith called it 'a terrible concession to so-called public morality.'
It is a bit touch and go sometimes, but on the whole Nino Rota's discordant score works well, adding a disturbing layer to a glorious, mesmerising thriller experience that's way too smart, chic and sexy for its own good.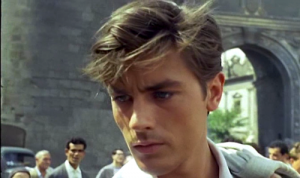 It was remade, very differently, in 1999 as The Talented Mr Ripley with Matt Damon. Dennis Hopper played Ripley in The American Friend (1977), John Malkovich in Ripley's Game (2002) and Barry Pepper in Ripley Under Ground in 2005.
The title translates as Full Sun; the American title was the awful Purple Noon.
It's back in cinemas 30th August 2013 and on DVD/BD 16th September.
http://derekwinnert.com/the-talented-mr-ripley-classic-film-review-41/
http://derekwinnert.com/ripleys-game-classic-film-review-108/
http://derekwinnert.com/the-american-friend-classic-film-review-132/
© Derek Winnert 2013 Classic Movie Review 173
See more film reviews on derekwinnert.com