Port of Seven Seas *** (1938, Wallace Beery, Frank Morgan, Maureen O'Sullivan, John Beal, Jessie Ralph) – Classic Movie Review 5267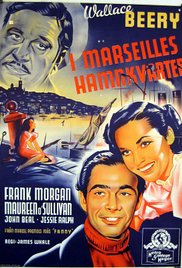 Director James Whale's haunting bitter-sweet 1938 MGM romantic drama might not entirely be typical for him, but nevertheless it is good material for him to get to work on. It is based on Marcel Pagnol's famous Marius trilogy (or Marseilles trilogy) of French films, first made as Marius, Fanny and César,
Maureen O'Sullivan stars as nice girl Madelon (originally called Fanny) who loves young sailor Marius (John Beal) on the Marseilles sea front. When she gets pregnant, the young seadog promptly vanishes on the next tide.
Madelon tells her troubles to the rich, ancient widowed Panisse (Frank Morgan), her old admirer and buddy of Marius's café-owning father César (Wallace Beery). And Madelon and Panisse get married, but then eventually Marius returns…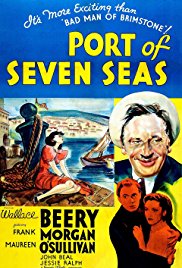 Preston Sturges and Ernest Vajda do the honours of writing the screenplay of this American screen adaptation of Marcel Pagnol's plays Marius and Fanny and 1936 original screenplay César.
This once racy tale might seem a tad trite and melodramatic now in this version. But there is enough excellent work all round from some important names in both acting and direction to command much respect.
Of course it helps a lot that the four stars are all on very good form, and that Whale seems to be relishing the charming material.
Also in the cast are Jessie Ralph as Madelon's mother Honorine, Cora Witherspoon, Etienne Girardot, E Allyn Warren, Robert Spindola, Doris Lloyd, Jerry Colonna, George Humbert, Jack Latham, Fred Malatesta, Moy Ming and Paul Panzer.
It is shot in black and white by Karl Freund, produced by Henry Henigson and Carl Laemmle Jr, scored by Franz Waxman, and designed by Cedric Gibbons and Edwin B Willis.
This film and the Marius trilogy were remade in 1961 as Fanny with Charles Boyer, Maurice Chevalier, Leslie Caron and Horst Buchholz.
© Derek Winnert 2017 Classic Movie Review 5267
Check out more reviews on http://derekwinnert.com