Marius ***** (1931, Raimu, Pierre Fresnay, Fernand Charpin, Orane Demazis, Alida Rouffé) – Classic Movie Review 6395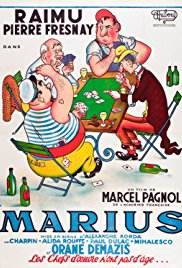 Marius is directed by the Hungarian film-maker Alexander Korda in 1931 during his stay in Paris before coming over to fly the flag for the British film industry as the founder of London Films and Denham Studios.
French playwright Marcel Pagnol provides his own screenplay for his deservedly much lauded trilogy, which starts here by introducing the 23-year old Marius (Pierre Fresnay), who dreams of going to sea, his fishmonger's daughter sweetheart Fanny (Orane Demazis), Marius's kindly father Cesar (Raimu), who runs a Marseilles waterfront bar, and Honorine (Alida Rouffe), the fishmonger, who sells cockles from a pavement stall near the bar.
Honoré Panisse (Fernand Charpin) seeks Fanny's hand in marriage. Will Marius follow his wanderlust and go to sea or follow his lust and marry the woman he loves?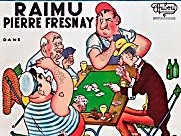 As it is made in 1931, it is an early sound film using the limited shooting equipment and techniques of the day. Studio based, it has a slight air of artificiality, but that proves attractive, and the salty dialogue still comes over fresh and fragrant. The strongly etched, temperamental, colourful characters are memorable, and the acting, particularly by Raimu, is just wonderful, making the unique characters warm and loveable.
Also in the cast are Robert Vattier, Paul Dullac, Alexandre Mihalesco, and Édouard Delmont.
It is shot in black and white by Ted Pahle, produced by Marcel Pagnol and scored by Francis Grammon.
Sequels: Fanny (1932) and César (1936).
© Derek Winnert 2017 Classic Movie Review 6395
Check out more reviews on http://derekwinnert.com