Peeping Tom **** (1960, Carl Boehm, Moira Shearer, Anna Massey) – Classic Movie Review 605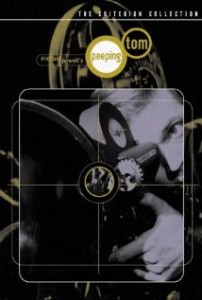 Director Michael Powell's 1960 shocker is an eye-opening insider's look at voyeurism and the mechanics of the film-making process, disguised as a lurid psychological thriller. This nightmarishly disturbing horror movie is Britain's answer to Psycho, though it hasn't aged quite as well as Alfred Hitchcock's classic.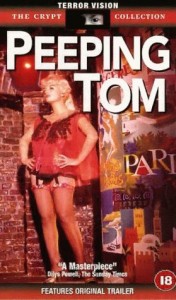 Peeping Tom has long been saddled with a reputation as perhaps Britain's most notorious film. Now, it's the stuff of every second or third serial-killer movie. Like Psycho, it's a trailblazer, way ahead of its time, for better or for worse. It certainly pushed the envelope, back then in 1960. That it seems incredibly 'modern' accounts for its continuing reputation and fascination.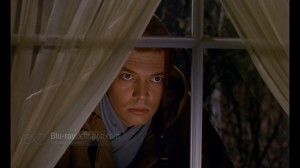 Within the cinema industry, the bizarre backlash the film suffered desperately damaged Powell's career, which never really recovered. That's quite hard to imagine or understand now, but there it is. The director's technical skill and screenwriter Leo Marks's fervid imagination are unquestionable in a movie that, once seen, can't fail to haunt the mind for ever. One unsettling scene follows another in gruesome succession, cinematographer Otto Heller's visuals are very striking, and Powell's use of sound and music is imaginative.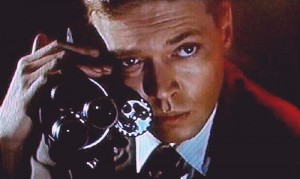 The masterly Carl Boehm (aka Karlheinz Böhm) gives a chillingly creepy performance as loner Mark Lewis, the photographer who records the dying expressions of terror of his women victims as he stabs them to death.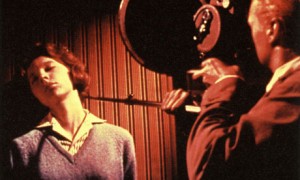 Working as a focus puller in a British film studio, he supplies a local porn shop with cheesecake photos and also dabbles in film-making. His project is a documentary on  the effects of fear that obsesses him. With 16mm camera in hand, he accompanies a prostitute to her room and stabs her with a blade concealed in his tripod, photographing her contorted face in the throes of terror and death. Worryingly, certainly, Powell tries to make the killer understandable, maybe even sympathetic, a credible human being, not just another generic movie monster.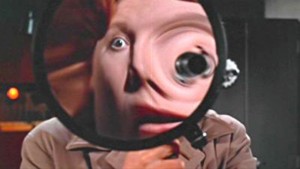 Troublingly, perhaps, Powell himself plays the killer's sadistic scientist father, who conducted experiments in the psychology of terror on mark when he was a child. Young Mark Lewis is played by Powell's real-life son, Columba Powell, and Mark's mother, seen lying lifelessly in bed, is played by Columba's real-life mother, Frankie Reidy.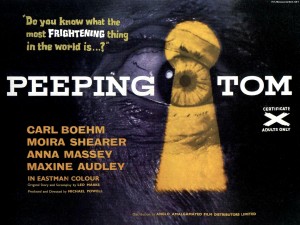 Moira Shearer, star of Powell's The Red Shoes, appears as murder victim Vivian, Brenda Bruce is another victim, Dora, and Anna Massey is Helen Stephens, with Shirley Anne Field as Pauline Shields. Nigel Davenport, who plays Det. Sgt. Miller, died on October 25 2013, aged 85.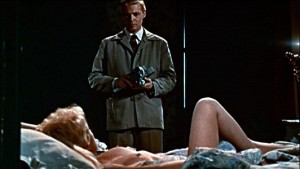 It was released on 16 May 1960 in the UK, just a few weeks before Hitchcock's shocker Psycho, which had its premiere in New York City on 16 June and opened in London on 4 August. These two movies prompted Britain's premiere film critic Caroline Lejeune to throw in the towel, disgusted. Why is it that Hitchcock's film career and reputation triumphed with Psycho and Powell's collapsed after Peeping Tom?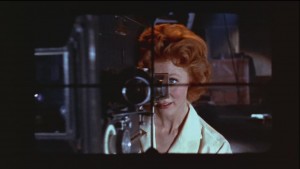 The British Board of Film Censorship heavily cut the film by seven minutes for release and many scenes still have a crude, scrappy feel that spoils Powell's original rhythm and flow, so we have to be slightly patient in judging it. BBFC cuts toned down the murders of Vivian and Dora, nude shots were deleted (including photos of naked women in the album), the suicide of the killer was shortened, and scenes featuring the spike were also edited. Some dialogue was also cut (hence the abrupt ending to the conversation between the cops in the car). Although some cuts were restored in video and DVD releases, the original uncut print is probably lost for ever.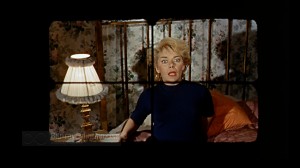 The cameras in Mark Lewis' room include Powell's own first film camera, a hand operated Eyemo, made by Bell and Howell, which he won in a competition.
Screenwriter Leo Marks was a World War II cryptographer and polymath.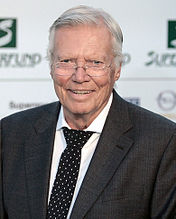 In February 2013 it was reported that the Austrian actor Karlheinz Böhm was suffering from Alzheimer's disease. He lived in Grödig near Salzburg until his death on 29 May 2014, aged 86. Apart from his creepy role in Peeping Tom, he is well remembered for his contrasting romantic role as Emperor Franz Joseph of Austria in the hugely popular and much loved trio of Sissi films (1955, 1956, 1957) with Romy Schneider as Princess Elizabeth of Austria.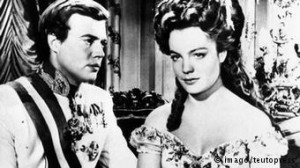 http://derekwinnert.com/the-red-shoes-classic-film-review-337/
http://derekwinnert.com/psycho-classic-film-review-8/
(C) Derek Winnert 2013 Classic Movie Review 605 derekwinnert.com
Link to Derek Winnert's home page for more film reviews: http://derekwinnert.com/