Notorious ***** (1946, Cary Grant, Ingrid Bergman, Claude Rains, Leopoldine Konstantin, Louis Calhern) – Classic Movie Review 233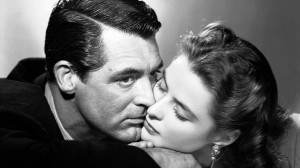 Alfred Hitchcock's 1946 end-of-the-war film noir masterpiece is one of his finest, most seductive movies. It is a devious twisted love story as much as a thrilling spy story.
It all starts with a brilliant, masterly screenplay by Ben Hecht and the luminous, resonant acting from three of his most distinguished stars on their greatest form. The ultra-tense script delivers electrifying sequences and terrific suspense, particularly towards the film's exciting climax.
And it excites visually too. It is a ravishing looking film. Ted Tetzlaff's black and white cinematography includes some breathtaking shots where the director is showing off his virtuosity. Hitchcock is inspired. It's never 'only a movie, Ingrid'.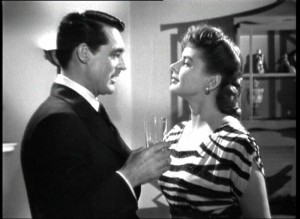 Cary Grant stars as T R Devlin, an urbane but dark and dangerous FBI agent who approaches a lost but lovely soul in Alicia Huberman. Her German father's been convicted of treason against America, and she's fallen into a hell of evil ways of over-indulging in the enjoyment of alcohol and male company. She's an alcoholic sex-fiend, in fact.
How Hitch must have enjoyed casting his loyal, loving friend Ingrid Bergman in this role! What was there about Bergman that suggested to Hitchcock that she was right for this character that seems a million miles for her real self? It's ironic, too, that Grant and Bergman were also close friends.
So Alicia is an easy target for somebody like Devlin, who finds little difficulty in trying to persuade her to spy on a group of her father's Nazi friends in South America. Alicia's very vulnerable and she gets much too involved with the dangerously charismatic charmer Devlin and then much too involved with the work she agrees to do for him.
A romance develops between the two and they marry. But Devlin's an arch manipulator, willing to risk the life of the woman he loves for his plan to get her to spy on Nazi sympathiser Alexander 'Alex' Sebastian (Claude Rains), who's operating an espionage ring out of Rio de Janeiro. Devlin wants her to infiltrate the ring, gain Max's confidence and then bring him to justice.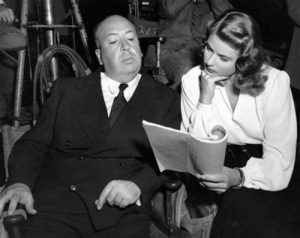 Is this for the greater good, for the safety of America or just because it's his job?  At any rate, he is putting country first and the woman he loves second. It's at best controversial, at worst totally dodgy and wrong.
It is a subtle, deliciously ambiguous universe, where everyone's mixed up and morally dubious, playing out a scenario where there are no real heroes or villains and where good and evil exist in everyone.
Grant is supposed to be the hero, the romantic idol and the film's moral centre, but his character Devlin cheerfully sends the woman he loves into mortal danger. He scarcely worries about this, until it's almost too late. Bergman is portraying an unstable, neurotic alcoholic, a sad, masochistic victim willing to risk her life for the man she loves in a cause she doesn't care about.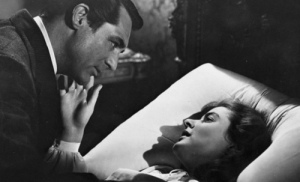 And Rains's villain Alex, though a murdering Nazi and weirdly dominated by his mother, is in other respects a decent man. But he's also a weak and easily manipulated character, exactly like Bergman's Alicia, who's also living in the shadow of her parents.
Alicia and Alex share a perfect symmetry. They're the couple who should really be made for each other. But that's not going to happen because she's trying to save America and he's out to destroy it. She's going to gain his trust and betray him. Bergman and Rains portray this all so well, so seemingly effortlessly. It's all there in the movie, but you don't have to think about it.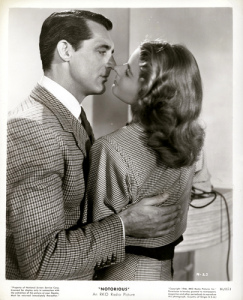 Madame (Leopoldine) Konstantin is marvellous as the mother in question (though actually only four years older than Rains), really imperious and chilling, memorable in one of Hitch's long gallery of scary mothers. Hitchcock's usual assembly of fine character actors also includes here Louis Calhern (as Paul Prescott), Reinhold Schunzel, Ivan Triesault and Moroni Olson. They are all also essential to flesh out their roles and in providing depth to their characters and texture to the film.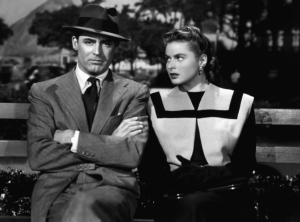 Hitchcock's and Hecht's astute plot hinges as usual on a McGuffin. This time it actually seems important and matters. It's a brilliant idea of uranium being concealed in wine bottles in Rains's cellar. This proved both timely and risky. It was written months before the existence of the atom bomb was revealed, but it led to the real FBI putting Hitchcock under surveillance for three months as a possible spy himself!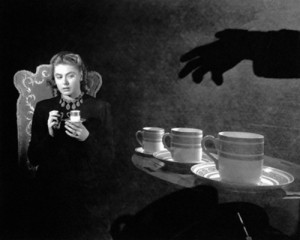 However, the idea of concealing uranium in wine bottles seems incredibly far-fetched, just a movie plot device, a McGuffin. When Hitchcock and Hecht asked Nobel prize-winning scientist Dr Robert Millikan how to make an atomic bomb, he wouldn't tell them. But he did confirm that the bomb's main item uranium could indeed fit into wine bottles.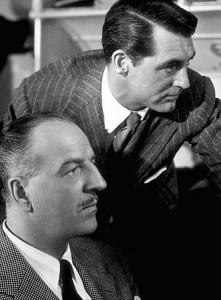 Two Oscar nominations marked Rains's and Hecht's skills. Hitchcock was nominated for the Grand Prix at Cannes, but, forever unlucky with awards, didn't win.
'Notorious woman of many desires! Fateful fascination! Bold intrigue!' the famous RKO poster advertises. What's all that about?
Hitchcock's usual cameo is an hour in at the party as a guest taking a glass of champagne, around 65 minutes into the film,
Also in the cast are Reinhold Schunzel, Moroni Olsen, Ivan Triesault, Alex Minotis, Wally Brown, Gavin Gordon, Ricardo Costa, Eberhard Krumschmidt, Antonio Moreno, Frederick Ledebur, William Gordon, Charles D Brown, Peter Von Zerneck, Fred Nurney and Sir Charles Mendl.
It runs 101 minutes, is produced by Selznick International, is released by RKO, is written by Ben Hecht, is shot in black and white by Ted Tetzlaff, is produced by Alfred Hitchcock and David O Selznick, and scored by Roy Webb.
It was remade for TV in 1992 with John Shea and Marisa Berenson.
© Derek Winnert 2013 Classic Movie Review 233
Check out more reviews on http://derekwinnert.com/