Nineteen Eighty-Four [1984] **** (1984, John Hurt, Richard Burton, Suzanna Hamilton) – Classic Movie Review 6402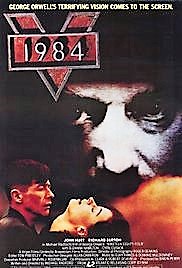 Nineteen Eighty-Four is a satisfactory, in many ways satisfying remake of George Orwell's famous prophetic, futuristic dystopian novel, filmed in the UK to celebrate the year it depicts. It was released in the UK on 10 October 1984.
It is made with dour vitality and considerable authority by Radford, director of Another Time, Another Place, White Mischief and Il Postino, keeping it faithful and respectful to the novel, and doing it justice.
It is perhaps most notable for the performances of stars John Hurt and Richard Burton, who are remarkable as the protagonists, both seen at their best. Burton plays government official General O'Brien, Big Brother's main man) and Hurt plays the brainwashed bureaucrat hero, Winston Smith, trying to survive and rebel in a totalitarian future society.  Suzanna Hamilton plays Julia, the woman Winston commits the crime of falling in love with.
It provides a fitting farewell to the movies for Burton (he did one more TV film, Ellis Island) before his death of a brain haemorrhage on 5 August 1984.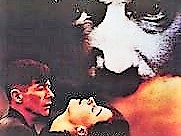 Also in the cast are Cyril Cusack, Gregor Fisher, James Walker, Phyllis Logan, Andrew Wilde, David Trevena, David Cann, Anthony Benson, Peter Frye, Roger Lloyd Pack, Rupert Baderman, Corinna Seddon, Martha Parsey, Merelina Kendall, P J Nicholas, Lynne Radford, Janet Key, Shirley Stelfox, Hugh Walters, Robert Putt, Christina Hargreaves, Garry Cooper, Matthew Scurfield, John Golightly, Rolf Saxon, Ole Oldendorp and Eddie Stacey.
It is written by Michael Radford and Jonathan Gems, shot by Roger Deakins, produced by Marvin J Rosenblum and Simon Perry, scored by Dominic Muldowney and designed by Allan Cameron.
It was first filmed as 1984 in 1956 by Michael Anderson, with Edmond O'Brien as Winston Smith, after a famous 1954 British TV version with Peter Cushing.
© Derek Winnert 2017 Classic Movie Review 6402
Check out more reviews on http://derekwinnert.com