Lust in the Dust *** (1985, Tab Hunter, Divine, Lainie Kazan) – Classic Movie Review 4102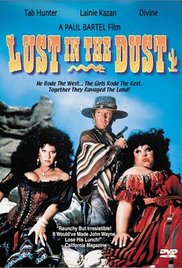 The still outrageously tacky Seventies drag star Divine and the still handsome Fifties heart-throb Tab Hunter (nicknamed The Sigh Guy) reunite after Polyester (1981) for this saucy, funny, good-natured, 1984 bad-taste trash spoof of Spaghetti Westerns. The title comes from the 1946 film Duel in the Sun, which was nicknamed Lust in the Dust.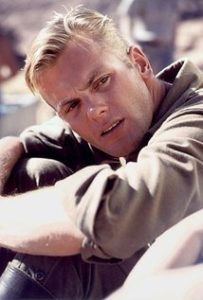 Written by Philip John Taylor, it is a whole lot of fun, and is directed lustily by funny man Paul Bartel. Despite the 15 certificate for nudity, violence and suggested sex, it is all really rather innocent and silly, and there is nothing you won't find in a Carry On movie, especially Carry On Cowboy.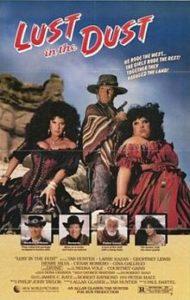 The campy plot is all about our hero and heroine arriving in a New Mexico town called Chili Verde, man-with-no-name-style shootist Abel Wood (yes he does have a name!) (Hunter) to hunt hidden loot, and dance-hall girl Rosie Velez (Divine) to divine a job as bar singer.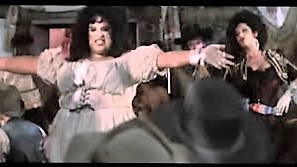 Abel helps Rosie to safety when she is lost in the desert. In Chili Verde, at the saloon of Marguerita Ventura (Lainie Kazan), Abel clashes with outlaw Hard Case Williams (Geoffrey Lewis) and his gang over the treasure in gold. The amusing cast takes it all in their amiable stride, raising a lot of laughs.
Also in the cast are Cesar Romero as Father Garcia, Henry Silva, Woody Strode, Gina Gallego, Nedra Volz, Courtney Gains, Pedro Gonzalez Gonzalez, Daniel Frishman and Ernie Shinagawa.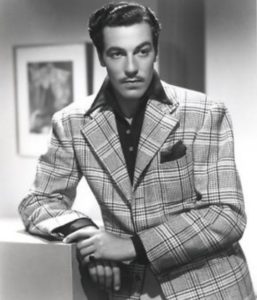 Romero was almost always described in interviews and articles as a 'confirmed bachelor' and many have speculated that he was a closeted gay man.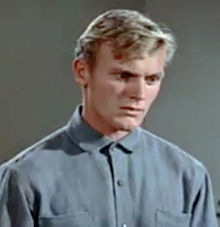 Tab Hunter had long-term relationships with Anthony Perkins and champion figure skater Ronnie Robertson, before settling down with his partner of over 30 years, film producer Allan Glaser.
© Derek Winnert 2016 Classic Movie Review 4102
Check out more reviews on http://derekwinnert