London After Midnight (1927, Lon Chaney Sr, Marceline Day, Conrad Nagel, Henry B Walthall, Percy Williams, Polly Moran) – Classic Movie Review 6356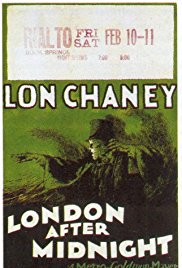 Director Tod Browning's reputedly engaging and rousing 1927 famed silent vampire chiller stars Lon Chaney Sr as Scotland Yard inspector Professor Edward C Burke, who terrifies lovely young Miss Smithson (Polly Moran), the new maid, while he obsessively investigates the death of a wealthy man in London.
The man's apparent suicide five years earlier turns out to be murder, and ghoulish creatures have taken over his abandoned home. But hypnotism is the key as Chaney Sr's Inspector Burke finally gathers together the suspects to wrap up the mystery.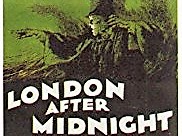 Chaney Sr, renowned as the Man of a Thousand Faces, displays his versatility and mastery of disguises, memorably appearing as a caped vampire.
However, the last known copy of the film was destroyed in the 1967 MGM vault fire so this is a famously missing, presumed lost film, alas. But the multitude of production stills have been assembled first into a book and then as a running sequence in movie form to try to re-create the experience of the film. In 2002, Turner Classic Movies aired the reconstructed version created by Rick Schmidlin, using the original script and film stills. The 45-minute reconstructed version was released in 2003 as a part of the TCM Archive's The Lon Chaney Collection DVD set.
It is based on the short story The Hypnotist by Tod Browning, who remade London After Midnight in 1935 as Mark of the Vampire.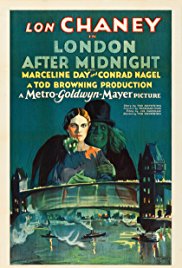 Also in the cast are Marceline Day, Conrad Nagel, Henry B Walthall, Percy Williams, Edna Tichenor, Claude King, Jules Cowles, Andy MacLennan and Allan Cavan.
It is written by Tod Browning, Waldemar Young and Joseph Farnham, shot in black and white by Merritt B Gerstad, produced by Irving Thalberg and Tod Browning, and designed by Cedric Gibbons and A Arnold Gillespie.
In 2014, the only contemporary poster known to exist for the film was sold in Dallas, Texas, to an anonymous bidder for a then record $478,000, now beaten by Dracula.
© Derek Winnert 2017 Classic Movie Review 6356
Check out more reviews on http://derekwinnert.com