Lola ** (1986, Ángela Molina, Patrick Bauchau, Féodor Atkine, Assumpta Serna, Carme Sansa, Pepa López) – Classic Movie Review 6193
Angela Molina gives a powerful performance as the titular Lola, a factory worker who suffers at the hands of her sadistic lover Mario (Féodor Atkine), in co-writer/ director Bigas Luna's dour, dubbed Spanish suspense thriller.
The sluggishly written story sees Molina haunted by her past four years after she starts a love affair and runs away to start a new life with Roberto (Patrick Bauchau), a rich French businessman. They marry and have a daughter. But four years later, Mario turns up to get Lola back, along with her daughter, who he believes is his.
Though well enough handled, the film is largely unremarkable, apart from the memorable performances of Molina and Atkine.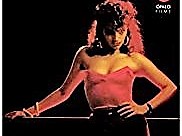 The story is by Bigas Luna, who co-writes the screenplay with Luis Hercé and Enrique Viciano. It is shot by Josep M Civit, produced by Enrique Viciano, scored by José Manuel Pagán and designed by Felipe de Paco.
Also in the cast are Assumpta Serna, Carme Sansa, and Pepa López.
Bigas Luna is best known for Jamón, Jamón (1992) and Golden Balls (1993). He died on 6 April 2013, aged 67.
© Derek Winnert 2017 Classic Movie Review 6193
Check out more reviews on http://derekwinnert.com