Julia ***** (1977, Jane Fonda, Vanessa Redgrave, Jason Robards, Maximilian Schell, Hal Holbrook, Rosemary Murphy, Meryl Streep) – Classic Movie Review 4051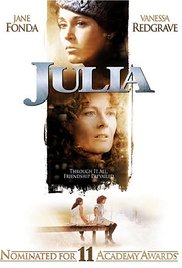 Those three fine actors Jane Fonda, Vanessa Redgrave and Jason Robards eagerly grab their chances to shine in director Fred Zinnemann's handsome 1977 film of author/ playwright Lillian Hellman's story Pentimento, her memoir of her lover, the thriller author Dashiell Hammett, and her wealthy friend Julia, who draws her into activism in Thirties Europe. It is a great looking film, beautifully shot, set and dressed, with the era perfectly conjured up.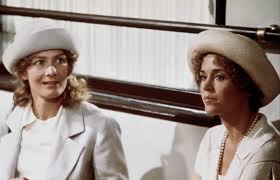 The subjects of friendship, love and politics are handled lightly for such weighty topics, rather than being developed as themes, allowing the personal stories and then a wartime adventure as Lillian undertakes a dangerous mission to smuggle funds into Nazi Germany to dominate.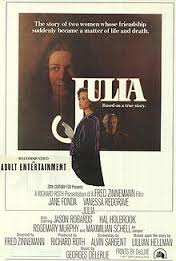 It is a complex, subtle and superior work for popular cinema, and Fonda is the admirable glue that holds it together. But ironically her reward was only to be robbed on Academy Award night and to see Robards and Redgrave take the Best Supporting Actor and Actress Oscars as Hammett and Julia. Happily, the intelligent screenplay from Alvin Sargent won an Oscar too.
It is a credit to the film-making of the era as, sadly, it is hard to imagine such a movie being made for the mainstream today or distributed by a major studio. Although, having said that, Carol (2015) is a distant cousin of this movie.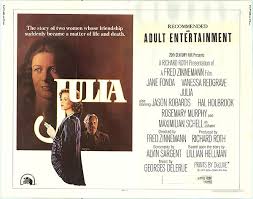 Also in the distinguished star support cast are Maximilian Schell, Hal Holbrook, Rosemary Murphy, Lisa Pelican, Cathleen Nesbitt, John Glover and Maurice Denham. And the 28-year-old Meryl Streep gives an outstanding performance in her feature debut role as Anne Marie.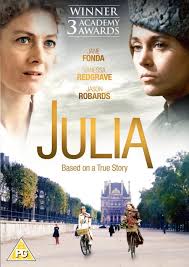 There were eight other Oscar nominations, including Best Picture, Best Actress, Best Actor (Schell), Best Director, Best Cinematography (Douglas Slocombe), Best Costume Design (Anthea Sylbert), Best Score (Georges Delerue) and Best Film Editing (Walter Murch, Marcel Durham).
© Derek Winnert 2016 Classic Movie Review 4051
Check out more reviews on http://derekwinnert