Jaws: The Revenge [Jaws 4] * (1987, Lorraine Gary, Lance Guest, Mario Van Peebles, Karen Young, Michael Caine) – Classic Movie Review 4901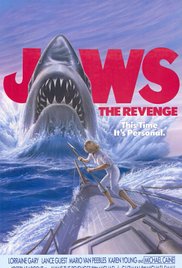 Producer-director Joseph Sargent's 1987 fourth and final part of the shark saga has only its star Lorraine Gary as Ellen Brody, widow of Roy Scheider's character police chief Brody, surviving from the first two films, Jaws (1975) and Jaws 2 (1978), though it does also feature the characters of her sons Mike and Sean, now played by Lance Guest and Mitchell Anderson.
The 1983 Jaws III [Jaws 3D] was a novelty spin-off with none of the original cast involved, though that also features Mike and Sean, played by Dennis Quaid and John Putch.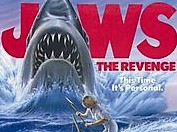 Anyhow, their mother Ellen Brody is now convinced that yet another still-hungry, revenge-seeking shark has targeted her family as a fishy supper in the New England seaside island resort of Amity. Mike is now married to Carla (Karen Young) and has a business partner in Jake (Mario Van Peebles).
Michael Caine is surprisingly thrown away with insufficient to do as Gary's seedy gambler love interest Hoagie Newcombe, and the script sinks to new depths, especially at the muffled, misbegotten climax. The Bahamas backdrops are pretty and the shark looks as toothsome as ever, in its plastic kind of way, but this is one heck of a bad movie. It is written by Michael de Guzman.
Though The Swarm (1978), The Hand (1981) and The Island (1980) give it strong competition, Jaws: The Revenge is, arguably, Caine's worst film. Caine recalls: 'I have never seen it, but by all accounts it is terrible. However, I have seen the house that it built, and it is terrific.'
This time the budget was $23,000,000 and the US gross $20,763,000, spelling the end of the franchise.
Also in the cast are Judith Barsi, Lynn Whitfield, Jay Mello (as the young Sean Brody from Jaws in archive footage), Cedric Scott, Charles Bowleg, Melvin Van Peebles, Mary Smith, Edna Billotto, Fritzi Jane Courtney, Cyprian R Dube, Lee Fierro, John Griffin, Diane Hetfield, Daniel J Manning, William E Marks, James Martin Jr, David Wilson, Romeo Farrington, Anthony Delaney, Heather Thompson, Levant Carey and Darlene Davis.
It is the final cinema feature directed by Joseph Sargent.
It is also known as Jaws 4: The Revenge or Jaws 4.
© Derek Winnert 2017 Classic Movie Review 4901
Check out more reviews on http://derekwinnert.com