Intermezzo: A Love Story **** (1939, Ingrid Bergman, Leslie Howard, Edna Best) – Classic Movie Review 6679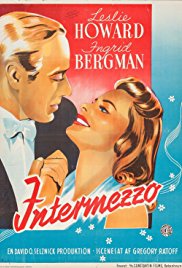 It is time to get your box of handkerchiefs at the ready for director Gregory Ratoff's irresistibly charming 1939 romantic drama tearjerker that launched the American career of Ingrid Bergman, who had already appeared in Intermezzo, the 1936 original Swedish version of this archetypal story about a young piano teacher called Anita Hoffman (Bergman) in love with a married, older concert violinist named Holger Brandt (Leslie Howard). It is Bergman's show but, even so, Bergman still gets second billing to the male star, as she did in 1936.
Intermezzo was a big hit and there were two Oscar nominations – for Gregg Toland for Best Cinematography Black-and-White and for Louis Forbes for Best Music, Scoring. Though it is filmed in Black-and-White, the poster is in misleading garish colours. Wasn't that a clue to the producer that the movie should have been in colour too?
Instead, producer David O Selznick was worried about Bergman's height ('Do you think we will have to use stepladders with Leslie Howard?'). But he need not have worried. Her warmth, beauty and sincerity effortlessly conquer all apparent obstacles. Incidentally, Bergman was tall but not that tall. She was 5′ 9″ and Howard 5′ 10″, so no actual stepladders were needed.
Intermezzo runs 70 minutes, is made by Selznick international, is released by United Artists, and is scored by Max Steiner and Robert Russell. The musical director is Louis Forbes and the art direction is by Lyle R Wheeler.
The 1936 theme music with lyrics by Robert Hemming and music by Heinz Provost was a big hit and it was released in 1940.
George O'Neil's screenplay is based on the original 1936 story by Gustaf Molander and screenplay by Gustaf Molander and Gösta Stevens.
Gregg Toland replaced original cinematographer Harry Stradling Sr, shooting in black and white. Irene designed Bergman's costumes.
Also in the cast are John Halliday, Edna Best, Cecil Kellaway, Ann E Todd, Enid Bennett, Douglas Scott, Maria [Marie] Flynn, Eleanor Wesselhoeft, Holmes Herbert, Doris Lloyd and Edmund Mortimer.
It was re-titled Escape to Happiness in the UK.
Intermezzo was remade again as Honeysuckle Rose (1980) with Willie Nelson.
© Derek Winnert 2018 Classic Movie Review 6679
Check out more reviews on http://derekwinnert.com