Intermezzo *** (1936, Ingrid Bergman, Gösta Ekman, Inga Tidblad) – Classic Movie Review 6678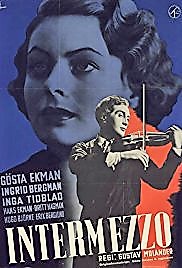 Co-writer/ director Gustaf Molander's unfairly neglected Swedish original 1936 film of the classic 1939 Hollywood romance Intermezzo sees Ingrid Bergman as the gorgeous young musician Anita Hoffman falling for married, older fiddle player Professor Holger Brandt (Gösta Ekman).
It is intriguing to compare it with the later version, which also stars Bergman, and it is nearly as affecting, thanks to the potent star pairing of established and new talent.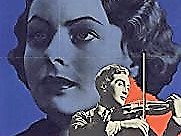 The acting is smooth and resonant throughout and the charismatic story is handled impeccably by director Molander, who wrote the original story and co-writes the screenplay with Gösta Stevens.
Also in the cast are Erik Bullen Berglund, Inga Tidblad, Britt Hagman, Hans Ekmann, Hugo Björne, Emma Meissner, Anders Henrikson, Millan Bolander, George Fant, Folke Helleberg, Margit Orth and Carl Ström.
Intermezzo runs 93 minutes, is shot in black and white by Äke Dahlqvist, scored by Heinz Provost and designed by Arne Rosander.
Intermezzo was remade again as Honeysuckle Rose (1980) with Willie Nelson.
© Derek Winnert 2018 Classic Movie Review 6678
Check out more reviews on http://derekwinnert.com