In Bruges **** (2008, Colin Farrell, Brendan Gleeson, Ralph Fiennes, Ciarán Hinds) – Classic Movie Review 250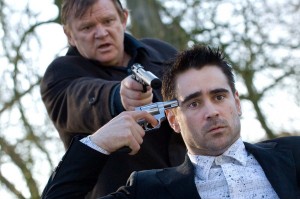 An Oscar and Bafta-winner for Best Original Screenplay, and a Golden Globe winner for its star, Colin Farrell, this way-out, non-PC pitch-black comedy action thriller is exceptionally funny, extremely well made and cleverly written. With an excellent score by Carter Burwell and stylish cinematography by Eigil Bryld, which together help to provide lots of crazy atmosphere, no wonder it was a UK cinema hit and is already a cult favourite.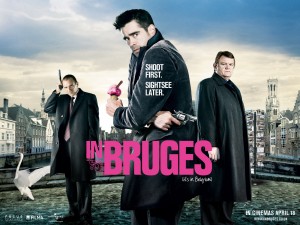 The plot could hardly be simpler or more familiar. Sent by their London boss, a demented Mr Big called Harry (Ralph Fiennes), to Bruges – that's in Belgium by the way – to await further orders after a botched job, Irish hitmen Farrell and Brendan Gleeson bicker and get deeper and deeper into trouble.
Writer-director Martin McDonagh (making his first feature) is an Olivier-award-winning playwright, and it shows in the often brilliant dialogue that's the making of this crowd-pleasing movie. But – and there is a but – in his search for laughs he's firing at too many soft targets. With vicious verbal attacks on Belgians, gays, blacks, dwarfs and even poor Croydon, and an astonishing level of gratuitous violence and appalling language, it does start to loosen its vice-like grip on the audience about half way.
Still, there's loads to laugh at in this superb movie, especially in the first part before it goes way over the top. Best of all, perhaps, Farrell and Gleeson are a hilarious double act, and posh actor Fiennes (pronounced Rafe Fines) relishes yet another psycho role. Though you do wonder where Ray Winstone was when they needed him.
The clever Martin McDonagh went on to make Seven Psychopaths in 2012.
His brother John Michael McDonagh followed with his 2010 debut The Guest, 2014's exceptional Cavalry, and his first US-set feature, War on Everyone (2016), another comedic thriller about immoral cops.
http://derekwinnert.com/7-psychopaths-film-review/
© Derek Winnert Classic Film Review 250 derekwinnert.com