War on Everyone *** (2016, Alexander Skarsgård, Michael Peña, Theo James, Tessa Thompson, Caleb Landry Jones, Paul Reiser) – Movie Review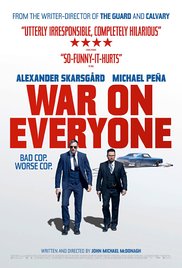 London writer and director John Michael McDonagh's welcome and tastily edgy but slightly off-kilter and struggling 2016 black comedy thriller re-tells the very familiar tale of two corrupt cops in New Mexico who enjoy blackmailing and framing criminals for a living and for a laugh.
Those quirky and mesmerisingly interesting actors Alexander Skarsgård (unrecognisable from his The Legend of Tarzan role) and Michael Peña star as detectives Terry Monroe and Bob Bolaño, who find things take an even more sinister turn when they try to intimidate the effete and dangerously vicious English Lord James Mangan. Lord James is played, in a brave bid for an adult audience and wider range by Theo James from Divergent (2014).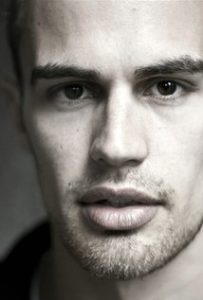 Unfortunately, playing it like a Bond villain, James is way out of his depth in the shallows of this appalling, cardboard, cliché character, well, actually more stereotype than character. But then so are the corrupt cops, and this is part of the film's problem. For Skarsgård and Peña are also having difficulties with their roles, leading Skarsgård to overplay gleefully (and engagingly and amusingly) and Peña to seem quite a lot more subdued and less effective than usual.
Helping out a bit are Caleb Landry Jones as Birdwell, Paul Reiser as the cops' boss Lt. Gerry Stanton, and Tessa Thompson as Jackie Hollis.
Several notches down from McDonagh's previous hits The Guard (2011), Calvary (2014), the scattergun War on Everyone is very much a hit and miss movie experience, and not nearly as good or successful as this year's very similar The Nice Guys. Nevertheless, it is watchable and entertaining, even funny and exciting, up to a point.
© Derek Winnert 2016 Movie Review
Check out more reviews on http://derekwinnert.com