Ice Station Zebra **** (1968, Rock Hudson, Patrick McGoohan, Ernest Borgnine, Jim Brown, Tony Bill, Lloyd Nolan) – Classic Movie Review 6250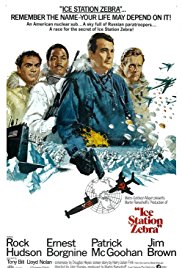 Director John Sturges's pulsating 1968 adventure movie stars Rock Hudson as Commander James Ferraday, USN, who commands the US Navy nuclear submarine USS Tigerfish on a journey under the ice from its Scottish base to the North Pole in order to beat the Russians to retrieve their spy capsule and rescue the staff of the Drift Ice Station Zebra weather station.
Sturges's vigorous, fast-paced direction makes the most of Alistair MacLean's edge-of-the-seat plot and the fine cast, also headed by Patrick McGoohan as British spy David Jones, Ernest Borgnine as Soviet defector Boris Vaslov and Jim Brown as marine Captain Leslie Anders.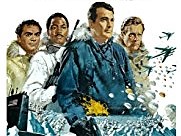 There is outstanding work on the 1968 special visual effects, widescreen Metrocolor photography (by Daniel L Fapp) and hardware, though it is let down technically by studio fake snow and obvious underwater models, but then they only add to the fun.
It was made in 70mm for the vast Cinerama screen, but it still looks okay on TV.
It was supposedly producer Howard Hughes's number one film, but then he was eccentric!
Fapp's photography was Oscar nominated for Best Cinematography and Hal Millar and J McMillan Johnson were Oscar nominated for Best Special Visual Effects.
Also in the cast are Tony Bill as Lieutenant Russell Walker, Lloyd Nolan as Admiral Garvey, Alf Kjellin as Colonel Ostrovsky, Gerald S O'Loughlin as Lieutenant Commander Bob Raeburn, Ted Hartley, Ron Masak, Murray Rose, Lee Stanley and Joseph Bernard.
It is written by Douglas Heyes and Harry Julian Fink, produced by Martin Ransohoff, John Calley and James C Pratt, and scored by Michel Legrand
Footage, particularly the Tigerfish submarine model, was re-used for Firefox (1982), Gray Lady Down (1978) and Never Say Never Again (1983).
© Derek Winnert 2017 Classic Movie Review 6250
Check out more reviews on http://derekwinnert.com