Dillinger **** (1945, Lawrence Tierney, Edmund Lowe, Anne Jeffreys, Elisha Cook Jr, Eduardo Ciannelli, Marc Lawrence) – Classic Movie Review 3234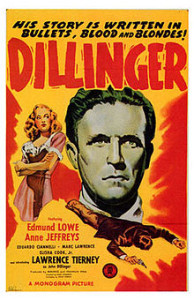 Director Max Nosseck's 1945 thriller is an excellent B-movie gangster film, which uses imagination and skill to triumph over its low-budget cheapness and enjoys a claim to being humble poverty row Monogram Studios' best ever movie.
The admirable Lawrence Tierney makes his name as the FBI's first-ever public enemy number one, John Dillinger, who was released after 10 years in jail, went on an armed bank-heist spree and was gunned down dead by the FBI in 1934.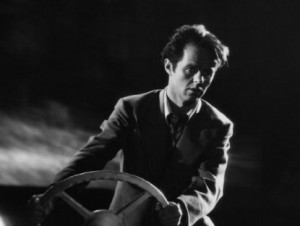 The nifty, credible Oscar nominated screenplay by Philip Yordan is matched by the sterling performances of the strong cast of Tierney, Edmund Lowe, Anne Jeffreys, Elisha Cook Jr, Eduardo Ciannelli and Marc Lawrence.
Jackson Rose's gritty black and white cinematography, Dimitri Tiomkin's vibrant music and Nosseck's taut, no-nonsense direction are further advantages. In the demonisation of Dillinger in a film approved by FBI boss J Edgar Hoover, the gangster is portrayed as a psychopathic killer who murders his mentor with an axe.
It is produced by Frank King and Maurice King, whose low budget meant that the smoke-bomb bank robbery heist sequence was taken from the 1937 film You Only Live Twice – so it's true, films can live twice too! But, naturally, it's none the worse for having a part filmed by Fritz Lang. Some sequences were shot at Big Bear Lake, California.
Also in the cast are Ralph Lewis, Elsa Janssen, Ludwig Stossel, Constance Worth, Selmer Jackson, Victor Kilian, Dewey Robinson, Hugh Prosser and Billy Nelson.
The story is most notably retold in Dillinger (1973), Dillinger (1991) and Dillinger and Capone (1995).
John Dillinger may have been public enemy number one in his day, but he's been a number one on many actors' and movie-makers' lists. After Lawrence Tierney starred as Dillinger (1945), Leo Gordon played him in Baby Face Nelson, Myron Healey in Guns Don't Argue (both 1957), Eric Sinclair in Ma Barker's Killer Brood (1960) Nick Adams in Young Dillinger (1965), William Jordan in The Kansas City Massacre (1975), Warren Oates in Dillinger (1973) Robert Conrad in The Lady in Red (1979), Mark Harmon in Dillinger (1991), while Martin Kove played him in Baby Face Nelson and Martin Sheen in Dillinger and Capone, both in 1995. The Dillinger file is still open…
© Derek Winnert 2015 Classic Movie Review 3234
Check out more reviews on http://derekwinnert.com