Torn Curtain *** (1966, Paul Newman, Julie Andrews, Lila Kedrova, Ludwig Donath, Wolfgang Kieling, Tamara Toumanova) – Classic Movie Review 228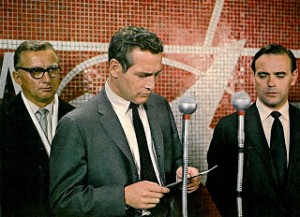 Alfred Hitchcock's 1966 espionage suspense thriller has its moments of tension and suspense. It is twisty and quite fun, and is entirely enjoyable enough. But it also often seems lethargic, rambling and overlong, and is definitely a lesser effort from such a master craftsman.

The very un-Hitchcock-like Method actor Paul Newman tries hard but is miscast as an American atomic scientist, Professor Michael Armstrong, who apparently publicly defects to East Germany because the US Government has cancelled his research programme. But he is actually planning to get to Professor Lindt (Ludwig Donath) in Leipzig to send his secrets for the solution for a formula resin back to the US.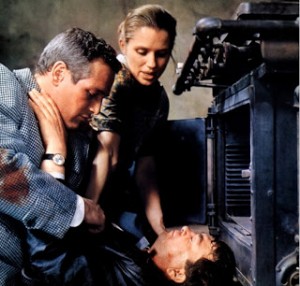 Another player you don't really expect in a Hitchcock film, Julie Andrews, is equally not at her best. She is brisk, efficient and professional, but that is all, as Newman's fiancée-assistant, Sarah Sherman. It is most unfortunate that the two stars share no chemistry. You never swallow the idea that they are a romantic couple or that Newman is an atomic scientist.
The couple go to Stockholm, where Newman is attending a physics conference. He suggests she should go back to the US, while he stays on. He has kept her in the dark about his activities. But, when she finds out, she makes his life way more complicated when she follows him, discovers he is actually headed for East Germany, pursues him there and turns up unexpectedly on the other side of the Iron Curtain. Now in great danger, the couple then somehow have to figure out a plan to evade the bad guys and escape back home to safety in the West.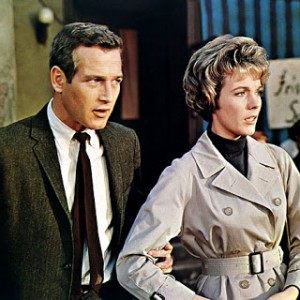 Hitchcock's landmark 50th movie shares themes and sensibilities with his best films, but is nowhere near the equal of his other great spy-chase thrillers like The 39 Steps or North by Northwest. Miscast though the stars are, the main problem mainly lies with Brian Moore's sticky screenplay. It is not a bad plot by any means but the script cannot quite make it work and nor can Hitchcock.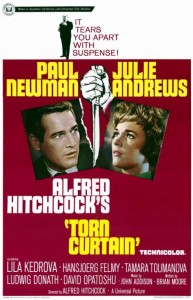 But there are still well-orchestrated and imaginatively handled sequences of excitement and high anxiety to relish, especially the notably violent kitchen-murder scene when Newman, together with the farmer's wife, is forced to kill the East German secret service agent Hermann Gromek (Wolfgang Kieling), who has uncovered his mission. The bus ride form Leipzig to Berlin and the escape from a ballet theatre (featuring Tamara Toumanova as the ballerina) are also genuine classic Hitch nail-biters. These scenes show the authentic Hitchcock touch.

Both stars provide plenty of allure and glamour but seem largely uncomfortable and some of the movie is noticeably underpowered and contrived. But it just escapes from being judged a negligible time-passer and becomes a watchable curio thanks to Hitchcock's quirky intelligence, plush, old-style craftsmanship and some old-fashioned likeability. There's also compensation in the support performances of Wolfgang Kieling, Ludwig Donath and Lila Kedrova (as Countess Kuchinska).
It is upsetting to have to apologize for a Hitchcock movie though.
Also in the cast are Hans-Joerg Felmy, David Opatoshu, Günther Strack, Gisela Fischer, Mort Mills, Carolyn Conwell, Arthur Gould-Porter and Gloria Gorvin.
It is shot by John F Warren, produced by Alfred Hitchcock and scored by John Addison.

Hitchcock explained: 'I got the idea from the disappearance of the two British diplomats Burgess and MacLean. I said to myself, what did Mrs MacLean think of the whole thing.'
Newman said: 'I think Hitch and I could have really hit it off, but the script kept getting in the way.' Newman called Andrews 'the last of the really great dames'. Now there's a real gentleman!
Brian Moore wrote the excellent novel The Lonely Passion of Judith Hearne, filmed in 1987.
http://derekwinnert.com/the-39-steps-classic-film-review-119/
http://derekwinnert.com/north-by-northwest-classic-film-review-4/
© Derek Winnert 2013 Classic Film Review 228 derekwinnert.com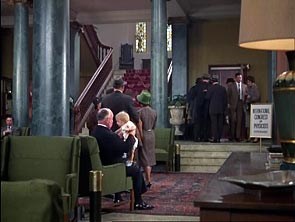 Hitchcock's cameo.