Come September *** (1961, Rock Hudson, Gina Lollobrigida, Sandra Dee) – Classic Movie Review 6034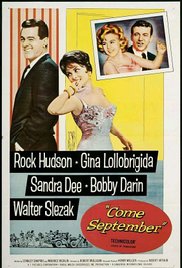 Director Robert Mulligan's fairly daft but amusingly bubbly 1961 escapist comedy has as its familiar theme the generation clash on an American vacation at a luxurious Italian villa.
Rock Hudson plays a rich American industrialist mogul called Robert L Talbot, who arrives unexpectedly in July instead of his usual September for his summer holiday to find his vacation home being run as a posh guest house by the Italian caretaker, Lisa Helena Fellini (Gina Lollobrigida), who soon becomes his mistress. Bobby Darin won the 1962 Golden Globe as Most Promising Newcomer – Male.
The bright, attractive performances from the appealing players count for a lot, perhaps more than Stanley Shapiro and Maurice Richlin's unrealistic, escapist screenplay, but that motors entertainingly along. And is also helps a lot that there is smooth handling and a polished production.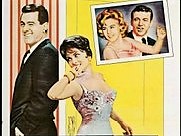 Young co-stars Sandra Dee and Bobby Darin, playing Sandy and Tony, were married in real life. They met and fell in love while filming the movie and shortly afterwards wed in 1960. They also made If a Man Answers (1962) and That Funny Feeling (1965) together before their divorce in 1967. It also stars Water Slezak, Joel Grey, Brenda de Banzie and Ronald Howard.
Also in the cast are Rossana Rory, Ronnie Haran, Chris Seitz, Cindy Conroy, Joan Freeman, Charles Fawcett, Nancy Anderson, Michael Eden and John Stacy.
It is released by Universal, shot by William Daniels, produced by Robert Arthur, scored by Hans J Salter, and designed by Ernest B Wehmeyer and Henry Bumstead.
Hudson and Lollobrigida also made Strange Bedfellows (1965) together.
© Derek Winnert 2017 Classic Movie Review 6034
Check out more reviews on http://derekwinnert.com