Strange Bedfellows ** (1965, Rock Hudson, Gina Lollobrigida, Gig Young) – Classic Movie Review 6129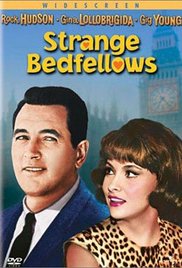 Co-writer/ co-producer/ director Melvin Frank's pleasant if only moderate 1965 romantic comedy repairs the glamorous and alluring successful star team of Rock Hudson of Gina Lollobrigida from Come September (1961).
Hudson plays Carter Harrison, a stuffy American oil boss based in London, and Lollobrigida plays Toni Vincente, the tempestuously stormy Italian Bohemian artist, whom he meets and all too quickly becomes his wife. The two fall out, and separate, but five years later on the night before their divorce, sparks reignite, but they fall out again in the morning.
Now Hudson's PR man (Gig Young) has to give their non-existent five-year-itch marriage a good image to give Hudson's career a boost and get him a promotion. It would all be okay if only Carter can get Toni back and stop her posing as Lady Godiva.
A typically glossy Universal Pictures Sixties production bolsters a conveyor belt comedy from the team of Melvin Frank and Norman Panama. Unfortunately, the screwball screenplay by Melvin Frank and Michael Pertwee (from Frank and Panama's story) is amusing enough but it is more often silly knockabout comedy than sophisticated and witty entertainment.
The comedy performances from the handsome stars are a little bit stiff (particularly by Hudson) but nevertheless OK, while showstopping turns from the British comics Arthur Haynes and Dave King (as rival cabbies) and Terry-Thomas help a lot to raise some more smiles. Pleasing though they are, the actors do have a problem though raising laughs with such a contrived story and artificial comedy situations.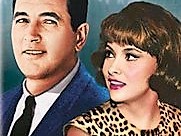 Also in the cast are Edward Judd, Howard St John, Nancy Kulp, Peggy Rea, Joseph Sirola, Lucy Landau, Bernard Fox, Edith Atwater, James Mccallion, Headley Mattingly, John Orchard, Frederic Worlock, Arthur Gould, Alan Caillou, Simon Scottt, Henry Corden, Maurice Dallimore, George Robotham, John Daheim, Dinah Anne Rogers and Kanan Awni.
It is shot in Technicolor by Leo Tover, produced by Edward Black and Melvin Frank, scored by Leigh Harline, and designed by Alexander Golitzen.
© Derek Winnert 2017 Classic Movie Review 6129
Check out more reviews on http://derekwinnert.com