Churchill ** (2017, Brian Cox, Miranda Richardson, John Slattery, James Purefoy) – Movie Review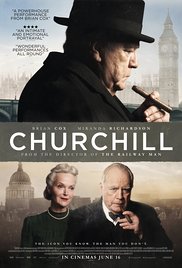 Try though he might in a valiant effort, Dundee-born Brian Cox doesn't get past his basic miscasting as Sir Winston Churchill in an interesting but shaky biopic set during the all-crucial 96 hours before the Allies invade on D-Day in June 1944. It keeps us in touch with the historical facts for World War Two buffs, but dramatically it feels thin, hollow and none too entertaining.
Miranda Richardson, John Slattery and James Purefoy are lively enough but no more persuasive as long-suffering wife Clementine Churchill, American-in-charge General Dwight Eisenhower and King George VI. These very good actors look nothing like the real things, and can't suggest them in the way that Helen Mirren suggested Her Majesty in The Queen. But that's nothing compared to Hendon-born Richard Durden's South African Field Marshal Jan Smuts, which is quite bad.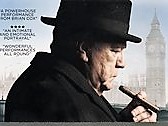 The film is fairly interesting as a history lesson – it is surprising to find the gung ho Churchill to be against the push through France as a disaster waiting to happen and preferring to rely on the route up through Italy – but not as a film drama. With lots of angry chatter in posh places, it feels static, stagey and unconvincing, with a cliché character at its centre.
Churchill is a predictably difficult, stubborn, obstinate, none too charismatic, cigar-chomping man – no revelations there. And there is a cliché sub-plot at the film's end: he melts and becomes kindly to a female assistant (Ella Purnell as Helen) he's been typically horrible to. It may even have happened but the film can't persuade us it did, or certainly not like this. And, of course, he melts and becomes kindly to the neglected Clementine. The film ends weakly and sentimentally, both about D-Day and Churchill, just it it needed to get really tough and rigorous, with a big fighting finish.
All you've got to do is look at the The Journey (2016) with Timothy Spall as Ian Paisley to see how this could have been done. Spall has of course already given us his Winston Churchill in The King's Speech (2010).
Ultimately, its main failure is that it doesn't explain why it needs to re-tell this story, or why the story and characters are still important to us.
© Derek Winnert 2017 Movie Review
Check out more reviews on http://derekwinnert.com