Children of a Lesser God **** (1986, William Hurt, Marlee Matlin, Piper Laurie, Philip Bosco) – Classic Movie Review 5249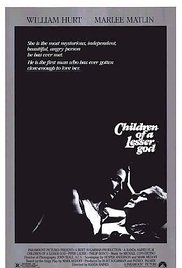 Director Randa Haines's rousing 1986 spirit-lifting drama stars marvellous Marlee Matlin (hearing impaired in real-life), who won a Best Actress Oscar and Golden Globe in her film début as Sarah, a young deaf woman whose hope, purpose and love in life are rekindled by new speech teacher James (William Hurt) at her school for the deaf.
This splendid film version of Mark Medoff's Tony Award-winning play is a beautiful, challenging heartwarmer, and does a truly grand job of the stage to screen transfer. Let nobody doubt the value of the quiet skill of Hurt or of début director Haines, who both delicately tiptoe among the pitfalls of bringing such sensitive material to the screen.
However, it is Matlin's triumph, and she and Hurt own the movie, but Philip Bosco has a triumphant time in support as the deaf school's bad boss, and Piper Laurie, Alison Gompf, John F Cleary and John Basinger also appear.
Hurt and Haines reunited in 1992 for The Doctor.
© Derek Winnert 2017 Classic Movie Review 5249
Check out more reviews on http://derekwinnert.com