Brief Encounter ***** (1945, Celia Johnson, Trevor Howard) – Classic Movie Review 167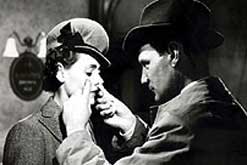 'You've been a long way away.'
'Yes.'
'Thank you for coming back to me.'
David Lean's superb 1945 film of Noël Coward's famous tearjerker is a much loved, much admired, much enjoyed classic. Taking the non-cynical on a surgingly high emotional rollercoaster ride, it's the British Casablanca.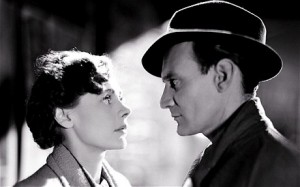 No one dares write romance like this any more. They haven't got the style or the talent or the sheer bravura, take-no-prisoners confidence it takes. Coward's perennially poignant dialogue has been the subject of much scoffing and parodying over the years, but it gives much more pleasure to relish than to mock. Twilight and The Mortal Instruments would kill for haunting romantic lines and situations like these.
Celia Johnson stars as married middle-aged Laura Jesson, living in splendid comfort in middle-England suburbia. Bored with her dull, cosy, too comfortable middle-class life with hubby Fred (Cyril Raymond), she meets incredibly nice, handsome, middle-aged doctor Alec Harvey (Trevor Howard) by chance at their London local railway station, Milford Junction.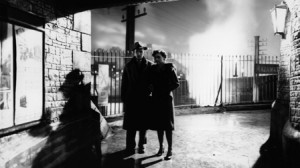 He helps her get a smut out of her eye, they have tea together, and – shock!, horror! – arrange to meet again the following Thursday. Their subsequent furtive close encounters at the Palladium cinema, the boating lake (Regents Park) and driving in the countryside are somehow strangely erotic and wildly passionate, underscored by Sergei Rachmaninov's stirring 2nd Piano Concerto (chosen by Coward). But love for them is an impossible dream.
Gorgeous though the story and drama are, the film wouldn't be the enduring icon of cinema romance it is without the stars' wonderful playing of stiff-lipped suburban passion. Johnson and Howard are marvels of internal acting. Even with wonderful players like Richard Burton and Sophia Loren, the appalling 1975 remake shows how easy it is to mess up something as exquisitely delicate as Brief Encounter.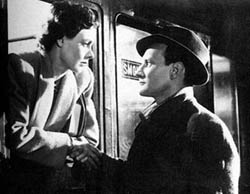 Coward's huge skill in writing romance is more than matched by his comedy writing. His friend Joyce Carey and Stanley Holloway are a hoot providing the comic relief as the station cafeteria lady Myrtle Bagot and train guard Albert Godby. It would overbalance the film, but it's a shame they don't have more to do anyway they're so funny. How the snobbish Coward (himself from humble Battersea) likes to make malicious fun of simple, working folk!
No one else really has anything to do except be there, but Everley Gregg is ideal as the gossipy friend Dolly Messiter, Irene Handl who turns up amusingly as both the café cellist and cinema Wurlitzer organist, Alfie Bass the waiter at the Royal, Margaret Barton is Beryl the tearoom girl, and Jack May the boat rental man.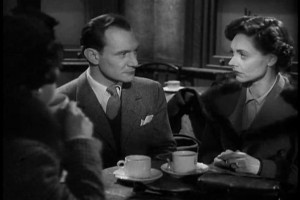 But we must not forget Lean's craftsmanship in orchestrating mood and atmosphere, Robert Krasker's evocative black and white cinematography, and Muir Matheson's score (with a little help from Rachmaninov).
Lean, Coward and producers Ronald Neame and Anthony Havelock-Allan all contributed to the screenplay based on Coward's Still Life one-act play, part of the Tonight at 8.30 cycle of plays from 1936. But it feels like the work of a single man. It's perfect, essential Coward.
Ah the days of Boots Lending Library and the Kardomah cafes!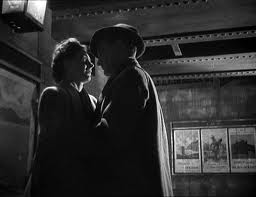 Filmed at Carnforth railway station, Lancashire, far enough away from London to be viable as a filming location in the wartime Blitz. The cinema interior was the Metropole in Victoria. The street scenes and pub (The Swan) are at Beaconsfield and Denham near the film studios where the interiors were filmed.
Howard, Carey and Holloway also all appear together in The Way to the Stars (also 1945).
Billy Wilder spoofed it in The Seven Year Itch. Alan Bennett got two of his schoolboy characters acting out the end of the movie in The History Boys.
Brief Encounter was restored in 2008 by the BFI National Archive, with support from the David Lean Foundation.
http://derekwinnert.com/the-way-to-the-stars-1945-john-mills-michael-redgrave-trevor-howard-classic-movie-review-1337/
© Derek Winnert 2013 Classic Movie Review 167
Link to Derek Winnert's home page for more film reviews: http://derekwinnert.com/