The Seven Year Itch ***** (1955, Marilyn Monroe, Tom Ewell, Evelyn Keyes) – Classic Movie Review 103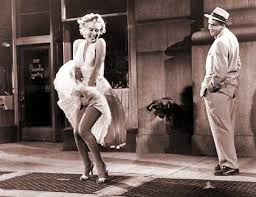 Marilyn Monroe gives her archetypal dumb-blonde act a total workout as The Girl, the unnamed ditzy new neighbour upstairs from tormented hero Richard Sherman (played by Tom Ewell), in Billy Wilder's delicious 1955 choice comedy classic. The poor man's libido rises with the New York heat when his wife and son set off one summer on vacation.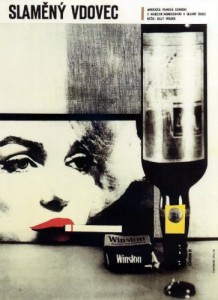 The good thing is that he can live as a bachelor as far as slobbish living, eating and drinking are concerned. The bad thing is he's actually not a bachelor, and this is America in the mid-fifties. What's a man to do when he and Monroe start spending time together? Well, for one thing, he can imagine himself enjoying flings with various ladies in his life. Cue laughter.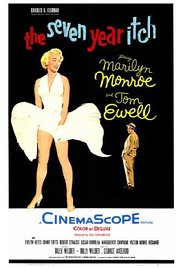 The film's main recommendation is the appealing, iconic appearance of Monroe, who is just superlative. She is funny and charming, has plenty to do and somehow makes it all look effortless. But it is Ewell's finest hour in the cinema, and he gives a bravura display of comedic pyrotechnics, all of it under the difficult circumstances of working with a troubled Monroe and some of it under the difficult circumstances of soliloquising his lascivious thoughts. The part might have been made for Jack Lemmon, but Wilder eventually stayed with Ewell who originated the role on stage when his choice of then newcomer Walter Matthau was not agreed by the studio, Twentieth Century Fox.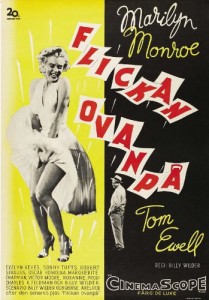 The script is funny, sometimes laugh-out-loud funny, but there are some longueurs in George Axelrod and Billy Wilder's screenplay from Axelrod's 1952 stage hit in a film that could have been sharper and funnier still. However, it could hardly more adorable or a better tribute to Monroe or better showcase for Ewell, who won the 1956 Golden Globe for Best Actor – Comedy or Musical.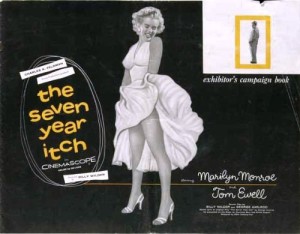 The production has a faded, set-bound look and a cobwebby stagey atmosphere, and director Billy Wilder hasn't been able to make it cinematic at all. Maybe he didn't even try. He was probably too busy concerning himself with the difficulties of directing the impossible, depressed Monroe, who fluffed her lines and often needed 40 takes to get a scene right. As with Wilder's Some Like It Hot (1959), those problems don't show on screen, and Monroe's performance appears seamless.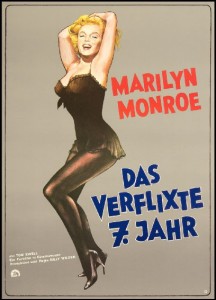 Evelyn Keyes has a thankless task in the role of the wife, and nobody else really gets a look in. But none of this matters when Monroe and Ewell are strutting their stuff to the amusing wit and wisdom of the screenplay. With some of the show's racy dialogue toned down for the screen, this is a warm-hearted and thoroughly enjoyable Fifties comedy classic, happily filmed by cinematographer Milton Krasner in glorious De Luxe colour.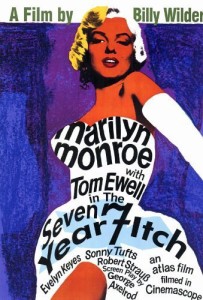 This is of course the one where Monroe lets her famous white dress billow up over the Manhattan subway street air-vent: Monroe performing this scene in front of 5,000 cheering onlookers upset her then husband Joe DiMaggio. Their marriage ended during the shoot. The footage was unusable because of the cheering and it had to be re-filmed in the studio.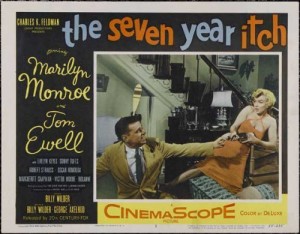 Also in the cast are Sonny Tufts, Robert Strauss, Victor Moore, Oscar Homolka, Carolyn Jones, Doro Merande, Marguerite Chapman, Dolores Rosedale [Roxanne] and Donald MacBride.
Monroe's white dress made a record $4.6million in auction in 2011.
Daryl Hannah performed the play in London's West End in 2000.
© Derek Winnert 2013 Classic Movie Review 3713
Check out more reviews on derekwinnert.com