Working Girl **** (1988, Melanie Griffith, Harrison Ford, Sigourney Weaver) – Classic Movie Review 198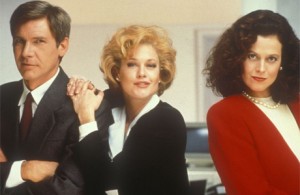 Melanie Griffith is at her appealing, lovely best as top Wall Street secretary Tess McGill in Mike Nichols's delicious, vintage-style 1988 romantic comedy, an infectiously happy feel-good  tale of much-deserved comeuppance. You know, the thing that doesn't actually happen in real life, only in the movies. That's why we love them.
The giggly, ditzy-seeming blonde Tess has a pleasant manner that hides a steely determination, and finds a way to work her way to the top of the Manhattan pile, with the help of Harrison Ford's pinstriped investment broker Jack Trainer. But first, she's got to take on and vanquish her ruthless, horrible boss Katharine Parker, a real bitch, played to the hilt by Sigourney Weaver, obviously modelling her performance on Cruella DeVil. She's queen of mergers and acquisitions, but she hasn't reckoned on Tess.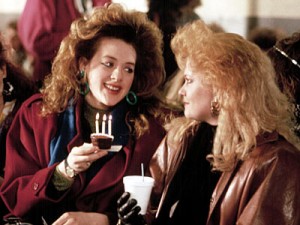 The Devil Wore Prada-style plot is simple enough but extremely effective. When her boss steals her innovative, lucrative ideas to advance her own career, Tess seizes the opportunity to get them back and use them for her own advantage while her boss is away on a skiing holiday during which she breaks her leg. The plan is to pretend to be her. She takes over her boss's life, her name, office, clients, home, clothes and even her boyfriend. And she teams up with Trainer to secure a big deal.
But then the boss comes back early…
A throwback to the screwball comedies of the 1930s, Nichols's super, sleek and satisfying movie has the authentic sparkle of Hollywood's Golden Era. The delightfully funny stars put a fine gloss on the witty script by Kevin Wade (Meet Joe Black, Junior), which will sound a chord with everyone who's had a mean boss.
Nichols directs the show supremely confidently and stylishly, like a man enjoying his work, bringing out the business flavour and New York atmosphere of the time deliciously, and incisively satirising the period's dodgy financial ethics, as well as its fashions and mores. Now it works a treat as a great late-80s time capsule too, as potent in its way as the movie Wall Street. It a hilarious fashion parade of 80s hair-dos, fashion and makeup.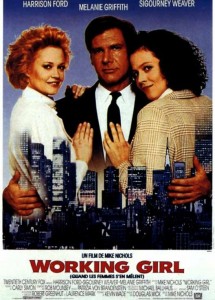 It's great to see both heavyweight performers Weaver and Ford doing so well with comedic parts and this is half the fun of the movie. But it's Griffith's show and she was nominated for – and deserved – an Oscar for her delightful performance in her star-making role. The 31-year-old Griffith had been around in movies a long time, but this one did the trick for her, but alas briefly and she didn't really have the career expected of her.
Oscar nominated as Best Supporting Actress, Joan Cusack also deserved to win for her hilarious performance as the backcombed secretary who teams up with Tess. But in the end only Carly Simon's now-forgotten song Let the River Run won an Oscar.
Weaver and director Nichols were also Oscar nominated as best supporting g actress and director and so was the film.
The TV version cuts the considerable swearing that earned it a 15 certificate, but otherwise the film is a charmer for everyone.
Check out more reviews on derekwinnert.com
(C) Derek Winnert 2013 Classic Film Review 198 derekwinnert.com