Wolf **** (1994, Jack Nicholson, Michelle Pfeiffer, James Spader, Kate Nelligan, Christopher Plummer, Richard Jenkins) – Classic Movie Review 4390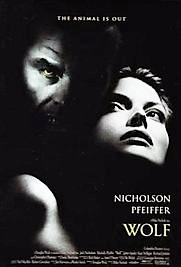 Director Mike Nichols's thrilling, lovingly made 1994 modern-day werewolf movie boasts a beautifully crafted and witty screenplay by Jim Harrison and Wesley Strick that is tailor made for its star Jack Nicholson.
Nicholson plays an aging Manhattan book editor/ publisher called Will Randall, who is bitten by a wolf that he runs down while driving in New England. Mild Jack becomes wild Jack as his job and marriage to Charlotte (Kate Nelligan) are threatened by his younger co-worker Stewart Swinton (James Spader), an ambitious oily yuppie. Summoned for the chop to the home of publisher Raymond Alden (Christopher Plummer), he meets the man's wayward daughter Laura (Michelle Pfeiffer).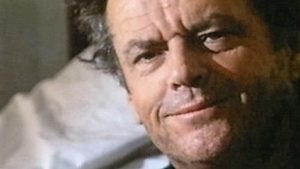 This really is Nicholson at around his best form, sometimes quiet and urbane, sometimes feisty and menacing, but always a figure of magnetic authority and power. He manages with effortless ease the gradual transformation as his senses become more acute, and this time it seems like real acting not a Jack Show turn. Pfeiffer supports loyally, Nelligan and Plummer add touches of class, and the admirable Spader grabs his chance to give as good as he gets from Nicholson.
The surprise is how director Nichols keeps relentlessly pushing the accelerator as he drives along this purring Rolls-Royce of a fantasy film that is by turns chilling, funny and touching.
The movie is technically superb thanks to Ennio Moriccone's slick music score, Giuseppe Rotunno's sleek and superb cinematography and sharp film editing by Sam O'Steen, though the sparing (if expert) use of Rick Baker's special effects makeup will probably disappoint fans of An American Werewolf in London.
Future Friends star David Schwimmer has a three-line walk-on role as a Central park cop. Indian cooking expert Madhur Jaffrey appears as a party guest. Also in the cast are Richard Jenkins, David Hyde Pierce, Om Puri, Eileen Atkins, Ron Rifkin and Prunella Scales.
It was costly movie, at $70 million, that didn't quite make its money back in the US (grossing $65 million).But everything about is says class.
© Derek Winnert 2016 Classic Movie Review 4390
Check out more reviews on http://derekwinnert.com