The Witches of Eastwick **** (1987, Jack Nicholson, Cher, Susan Sarandon, Michelle Pfeiffer) – Classic Movie Review 5868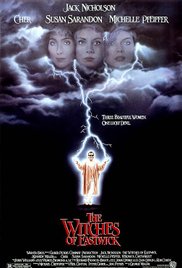 Director George Miller's 1987 horror comedy provides Jack Nicholson with one of his most celebrated roles, giving him the chance to have a devil of a time hamming it up as Daryl Van Horne.
He is a satanic rogue who has been summoned by three amateur witches (Cher, Susan Sarandon and Michelle Pfeiffer) who are short of love in their pretty small town in New England.
Cher plays sculptress Alex Medford, Sarandon plays cellist Jane Spofford and Pfeiffer plays writer Sukie Ridgemont, best friends, now all single after being married.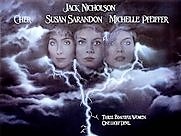 Director Miller effortlessly commands this potent witches' brew of sex comedy, special effects, wish fulfilment fantasy and supernatural spinetingler. And the movie always swings merrily along thanks to the magical cast, the BAFTA Film Award-winning special effects, John Williams's tinkling music for his Oscar-nominated Best Original Score and Michael Cristofer's smooth screenplay from the tale in John Updike's teasing novel. It is superlative, unusual adult entertainment.
Also in the cast are Veronica Cartwright, Richard Jenkins, Keith Jochim, Carel Struycken, Helen Lloyd Breed, Caroline Struzik, Becca Lish and Ruth Maynard.
It is beautifully shot in widescreen by Vilmos Zsigmond and designed by Polly Platt.
Michael Lantieri, Michael Owens, Ed Jones and Bruce Walters were the the 1988 Bafta winners for Best Special Effects.
Jack Nicholson won the Saturn Award for Best Actor at the Academy of Science Fiction, Fantasy & Horror Films, USA 1988.
A stage version followed in the late Nineties but the London theatre production with Ian McShane was not a hit.
© Derek Winnert 2017 Classic Movie Review 5868
Check out more reviews on http://derekwinnert.com