Wise Blood ****½ (1979, Brad Dourif, John Huston, Ned Beatty, Harry Dean Stanton, Dan Shor, Amy Wright, William Hickey) – Classic Movie Review 4121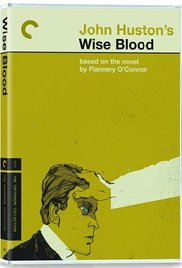 Director John Huston's brilliant 1979 film version of Flannery O'Connor's dramatic Deep South tale is nothing short of inspired.
In arguably still his best performance to date, Brad Dourif gives a brilliant portrait of a disturbed young man, Southerner US Army war veteran called Hazel Motes, who becomes a preacher and sets up The Church Without Christ in response to all the sacrilegious images he sees around him.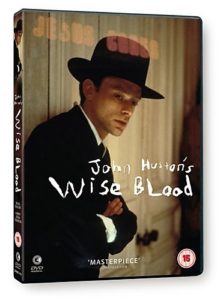 A fired-up Huston switches effortlessly from weird comedy to religious satire and then deep into poignant drama, and the movie is given credence by screen-writer Benedict Fitzgerald and the performances of a cast who look born to play these characters. The film is given added distinction by the cinematography of British DP Gerry Fisher and the score of veteran Alex North.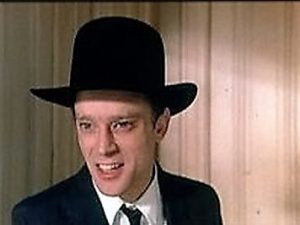 Dourif spent the rest of his busy career mostly playing nutters in usually undistinguished horror movies but here he quite simply gives the performance of a lifetime. However, Ned Beatty as Hoover Shoates, Harry Dean Stanton as Asa Hawks, Dan Shor as Enoch Emory, Amy Wright as Sabbath Lily, William Hickey as Preacher, Mary Nell Santacroce and Huston himself as Grandfather are nearly up there with him.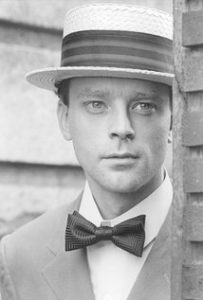 After a bit part in W.W. and the Dixie Dancekings (1975), Dourif's credited film debut was as Billy Bibbit in One Flew Over the Cuckoo's Nest in 1975. By 2016, he has 160 film and TV credits. His gallery of disturbed characters includes Eyes of Laura Mars (1978) and Milos Forman's Ragtime (1981), he teamed up with director David Lynch for Dune (1984) and Blue Velvet (1986), provided the voice of the evil doll Chucky in Child's Play (1988) and its sequels, and broke from the horror genre with roles in Mississippi Burning (1988), Hidden Agenda (1990), London Kills Me (1991) and as Wormtongue in Peter Jackson's The Lord of the Rings trilogy.
© Derek Winnert 2016 Classic Movie Review 4121
Check out more reviews on http://derekwinnert