Where Danger Lives **** (1950, Robert Mitchum, Faith Domergue, Claude Rains, Maureen O'Sullivan) – Classic Movie Review 6014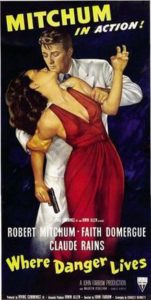 Director John Farrow's 1950 exciting RKO film noir crime thriller is probably the best film of producer Howard Hughes's protégé Faith Domergue.
Robert Mitchum is excellent as Dr Jeff Cameron, a dedicated young doctor, who dumps his nice nurse girlfriend Julie (Maureen O'Sullivan) when he becomes dangerously infatuated with sultry femme fatale Margo Lannington (Domergue), who is admitted to hospital, after tipping over into suicidal insanity.
[Spoiler alert] Jeff thinks the way out is to get Margo's father Frederick Lannington (Claude Rains) to agree he can marry her, but Rains in fact turns out to be Domergue's husband. Jeff becomes involved in the death of Margo's husband and flees with her to the Mexican border to outrun the police.
The mean and moody acting of the impeccable stars, Nicholas Musuraca's even moodier black and white cinematography, the grim film noir tone of Leo Rosten's story, Charles Bennett's tense and persuasive screenplay, and Farrow's taut and tingling direction all add up to make this an enthralling, spellbinding, totally unusual lovers-on-the-run psychological thriller.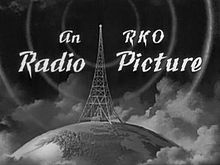 It co-stars Charles Kemper as the Postville Police Chief, Ralph Dumke as Klauber, Billy House as the Postville justice of the peace Bogardus, Harry Shannon as Dr Maynard, Philip Van Zandt as Milo DeLong, Jack Kelly as Jeff's hospital associate Dr James Mullenbach, Lillian West as Mrs Bogardus and Ray Teal as Sheriff Joe Borden.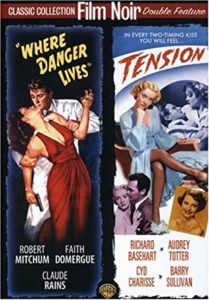 Also in the cast are Ruth Lewis, Julia Faye, Dorothy Abbott, Gaylord Pendelton, Art Dupuis, Stanley Andrews and Jack Kruschen.
It runs 84 minutes, is produced by Irving Cummings Jr for RKO Radio Pictures and scored by Roy Webb.
Australian John Farrow had seven children by his wife Maureen O'Sullivan, including Mia Farrow.
Charles Bennett's screenplays for Alfred Hitchcock include The 39 Steps, Young and Innocent and Foreign Correspondent, and he later wrote Night of the Demon.
It was released in the same year as Domergue's Vendetta.
It is available on a Film Noir double-feature DVD with Tension (1949).
© Derek Winnert 2017 Classic Movie Review 6014
Check out more reviews on http://derekwinnert.com