Waterloo Bridge **** (1940, Vivien Leigh, Robert Taylor, Lucile Watson) – Classic Movie Review 5422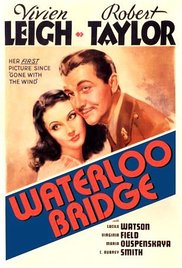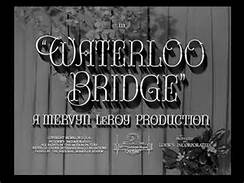 Director Mervyn LeRoy 1940 vintage black and white MGM romance is a sweet, tear-jerking winner, though it cries out for Technicolor when Joseph Ruttenberg shoots it in black and white. Though Vivien Leigh wanted wanted Laurence Olivier not Robert Taylor as her co-star ('It's a typical piece of miscasting… I am afraid it will be a dreary job'), she later stated this was the favourite of her films. So did Taylor.
Universal Pictures had hired James Whale to film the controversial material about a woman forced into prostitution in World War One in 1931 as Waterloo Bridge, starring Mae Clarke and Douglass Montgomery, but were unable to re-release the movie after the US Production Code was enforced in July 1934.
But in 1939 the MGM studio bought the rights to the 1930 Robert E Sherwood play from Universal and a year later, in 1940, MGM remakes the story as a partly updated, topical one, with a carefully blanded and smoothed-out plot about a London ballet dancer and the English upper-crust officer who is smitten with her after meeting by chance on Waterloo Bridge during an air raid.
The movie unfolds in an extended flashback narration as the officer revisits Waterloo Bridge in World War Two London on his way to fight to France and recalls himself as a young man in World War One and meeting Myra, whom he had planned to marry.
Vivien Leigh (in her follow-up to 1939's Gone with the Wind) is appealingly sweet and vulnerable as Myra Lester, the young woman who is fired from her corps de ballet job as a ballerina and falls into street-walking prostitution, believing her fiancé to be dead. However, Robert Taylor (unable to conceal his American accent) is less impressive, merely handsome and dashing as the officer, Roy Cronin.
The material is just as soppy and outmoded as before, but the plush, sumptuous MGM production and Leigh are extremely attractive and beguiling. And the piece is sleekly crafted by director LeRoy and producer Sidney Franklin and their team, helping to make it a big hit in its day, taking nearly $3 million (it cost $1,164,000). Today's audiences may view it more sceptically, but it is still a classic of its kind.
Also in the cast are Lucile Watson, Virginia Field, Maria Ouspenskaya, C Aubrey Smith, Steffi Duna, Leo G Carroll, Janet Shaw, Janet Waldo, Steffi Duna, Virginia Carroll, Leda Nicova, Florence Baker, Margery Manning, Frances MacInerney, Eleanor Stewart, David Clyde, Halliwell Hobbes, Charles Irwin, Tempe Pigott, Harry Stubbs, Martha Wentworth, Douglas Wood, John Power, Frank Mitchell, Leonard Mudie, Jimmy Aubrey, Janet Shea and Eleanore Stewart.
The screenplay is by S. N. Behrman, Hans Rameau and George Froeschel, and the music is by Herbert Stothart. It was Oscar nominated for Best Music and Best Cinematography.
It is probably the first Hollywood film to have World War Two in its story.
A third film version of Sherwood's play, Gaby, followed in 1956, with Leslie Caron and John Kerr.
© Derek Winnert 2017 Classic Movie Review 5422
Check out more reviews on http://derekwinnert.com