Warlock **** (1989, Julian Sands, Lori Singer, Richard E Grant) – Classic Movie Review 4412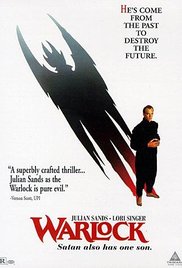 Julian Sands as an evil warlock who escapes from Boston in medieval times of the 17th century to the present day, hotly pursued by creepy, world-weary witchfinder Giles Redferne (Richard E Grant) in director Steve Miner's thrilling and terrifying 1989 American supernatural horror fantasy movie.
In a reversal of the plot of The Terminator (1984), 'He's come from the past to destroy the future'.
The two British stars give spectacular, exciting performances, there is a very strong screenplay by David Twohy, rousing direction by Miner and a satisfying array of pre-CGI special effects.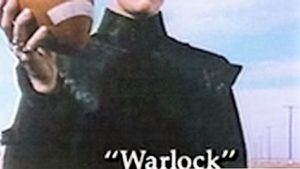 Also in the cast are Kevin O'Brien, Mary Woronov, David Carpenter, Richard Kuss, Allan Miller and Anna Levine.
It cost $7 million and earned a modest $9 million at US box offices, but gained strongly on video.
Alas its production company New World Pictures went bankrupt, but the newly founded Trimark Pictures bought the distribution rights in 1990 as well as the rights for potential sequels. And indeed a sequel followed, Warlock: The Armageddon, also with Julian Sands, directed by Anthony Hickox in 1993. It made a trilogy when a second sequel, Warlock III: The End of Innocence, starring Bruce Payne and Ashley Laurence, appeared in 1999, directed by Eric Freiser.
© Derek Winnert 2016 Classic Movie Review 4412
Check out more reviews on http://derekwinnert.com