Wait Until Dark **** (1967, Audrey Hepburn, Efrem Zimbalist Jr, Alan Arkin, Jack Weston, Richard Crenna) – Classic Movie Review 947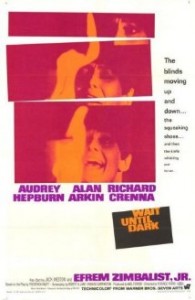 Director Terence (Goldfinger) Young's 1967 movie is an extremely effective, thoroughly enjoyable thriller and provides Audrey Hepburn with an idea role. Involvingly concocted hokum, it's one of director Young's best films, smoothly and effectively translating to the screen the tense hit play by Frederick Knott, author of Dial M for Murder.
As with Alfred Hitchcock's film of Dial M for Murder, you always know that it has had a previous life on the theatre as a single-set play, but, even so, the movie isn't too stagey or artificial.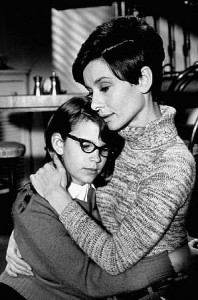 Hepburn won an Oscar nomination for playing Suzy Hendrix, a young married woman blind after a car accident a little earlier, who is terrorised by three stop-at-nothing, thuggish criminals who break into her apartment. Somehow, she's got to survive and fight back.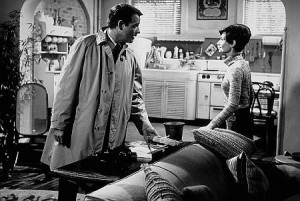 It all starts when Hepburn's husband, professional photographer Sam (Efrem Zimbalist Jnr), unwittingly brings into their apartment a stash of bags of heroin hidden in a doll he's been given. Then he goes away, and villains Alan Arkin, Jack Weston and Richard Crenna arrive and set about making Hepburn's life a torment in their desperate search for the drugs. A thrilling climax rounds off a tense and exciting movie perfectly played by the cast, with Hepburn and Arkin specially rousing.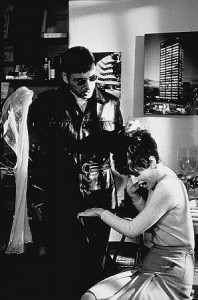 Lee Remick made her Broadway debut in the play and was nominated for the 1966 Tony Award for Best Actress, while Honor Blackman and Peter Sallis starred in it in London's West End.
Sallis tells an amusing story: 'John Gielgud saw me outside the Strand Theatre with Honor Blackman when we were in Wait Until Dark. He said hello and asked me what I was doing and I said "I'm in this". He said, "Ah, ah, I hear the girl is very good."
The nine-year-old Robby Benson (in his film debut) plays a boy tossing a ball in the opening airport scene. Hepburn's favourite composer on her films Charade and Breakfast at Tiffany's, Henry Mancini, provides the agreeable score. Hepburn's real-life husband Mel Ferrer is the producer. But they divorced the following year.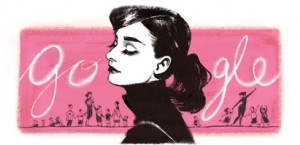 On May 4 2014, Audrey Hepburn would have celebrated her 85th birthday. On the evening of 20 January 1993, Hepburn died at home in her sleep of appendiceal cancer. Her Roman Holiday co-star Gregory Peck tearfully recited her favourite poem Unending Love by Rabindranath Tagore on TV as his tribute.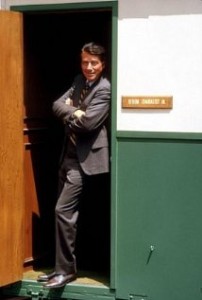 Efrem Zimbalist Jr, a 1960s and 1970s regular TV stalwart as the star 77 Sunset Strip and The F.B.I. died on May 2 2014, aged 95. He was the son of renowned concert violinist Efrem Zimbalist Sr (1889-1985) and opera singer Alma Gluck (1884-1938).
Tall, slim, handsome and sharply dressed, Zimbalist starred as the smooth ex-OSS officer turned private eye Stuart Bailey, who ran the LA detective agency in 77 Sunset Strip. The hit Warner Bros show ran on ABC from 1958 to 1964.
http://derekwinnert.com/roman-holiday-classic-film-review-44/
http://derekwinnert.com/dial-m-for-murder-classic-film-review-82/
http://derekwinnert.com/goldfinger-classic-film-review-403/
© Derek Winnert 2014 Classic Film Review 947
Link to Derek Winnert's home page for more film reviews: http://derekwinnert.com/