W W and the Dixie Dancekings *** (1975, Burt Reynolds, Art Carney, Conny Van Dyke, Jerry Reed, Ned Beatty) – Classic Movie Review 4165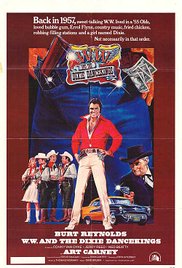 Director John G Avildsen's pleasantly laid-back 1975 comedy stars Burt Reynolds as sweet-talking, happy-go-lucky US Southern Fifties trickster W W Bright.
W W is an old rogue of a crook who makes his living robbing gas stations, but in 1957 he gets mixed up with his girlfriend Dixie (Conny Van Dyke)'s country music band, The Dixie Dancekings, and helps them to get a shot at stardom in Nashville's Grand Old Opry.
W W first encounters The Dixie Dancekings when he hijacks their car. Yes, it is a typical Reynolds film from a time when the public couldn't get enough of them.
Avildsen's movie is an easy-going, entertaining, slightly slapdash and gleefully amateurish movie, with an ideal role for Burt, who is charming, plus country singers gainfully cast as actors – Jerry Reed (as Wayne) and the octogenarian Furry Lewis (as Uncle Furry). As usual in a Reynolds film, there is work for Ned Beatty, who amuses as a country megastar, Country Bull.
Director Avildsen keeps it all moving along commendably briskly and amusingly, and, above all, keeps the ramshackle show on the road.
After his first film role in a bit part here, Brad Dourif's credited film debut was as Billy Bibbit in One Flew Over the Cuckoo's Nest in 1975. Stuntman-director Hal Needham has a role as Trooper Carson. Also in the cast are Art Carney as Deacon, James Hampton, Don Williams, Richard D [Rick] Hurst, Mel Tillis, Sherman G Lloyd, Mort Marshall, Peg Murray, Polly Holliday, Cathy Baker, Fred Stuthman, Bill McCutcheon and Sherry Mathis.
© Derek Winnert 2016 Classic Movie Review 4165
Check out more reviews on http://derekwinnert