Valkyrie *** (2008, Tom Cruise, Bill Nighy, Carice van Houten, Tom Wilkinson, Kenneth Branagh) – Classic Movie Review 4424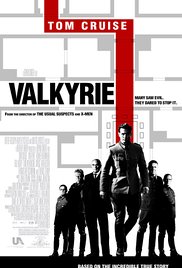 There was bad word of mouth when that most American of actors Tom Cruise decided to play war-wounded German colonel Claus von Stauffenberg in 2008's Valkyrie, apparently attracted to the role after seeing a picture of him and thinking – weirdly! – how similar he looked. And, when there were re-takes, the production was halted and the release date was juggled several times, malicious rumours abounded that this was a star and a film in trouble.
Yet, though far from ideally cast star, Tom Cruise makes a surprisingly decent, understated job of playing von Stauffenberg, who forms the centre of a World War Two plot by a group of disillusioned senior German officers to kill Adolf Hitler in the summer of 1944 and make peace with the Western Allies. Alas, though, director Bryan (The Usual Suspects, X-Men) Singer's movie – more of a tense drama than an exciting thriller – is only a competent, conscientious job, not the outstanding masterwork it clearly aspires to be.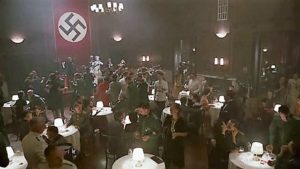 The screenplay by Christopher McQuarrie and Nathan Alexander is uninspired and merely adequate, and, like the script, Singer's TV movie-style direction plods along with a lack of urgency through what is clearly really a nail-biting story. And, shockingly, the quality British support cast all seem uninspired, pitching their nervous performances as Nazis somewhere between subdued and shaky.
Even the normally reliable Bill Nighy (General Olbricht) is far too twitchy and Tom Wilkinson (General Fromm) too blustery, though Dutch star Carice van Houten (from Black Book) makes something touching of her role as von Stauffenberg's wife Nina. The two lowest spots are the totally non-lookalike actor (David Bamber) playing Hitler badly in a dodgy wig and Eddie Izzard's embarrassingly hammy General Erich Fellgiebel.
Still, though far from jolly, it is a fascinating story well worth re-telling. And this is valuable and informative as a history lesson, even if there is a much classier movie trying to escape from here.
Also in the cast are Kenneth Branagh as Major-General Henning von Tresckow, Thomas Kretschmann, Terence Stamp, Kevin McNally, Tom Hollander, David Schofield and Kenneth Cranham.
© Derek Winnert 2016 Classic Movie Review 4424
Check out more reviews on http://derekwinnert.com