Twisted Nerve ** (1968, Hayley Mills, Hywel Bennett, Billie Whitelaw, Phyllis Calvert, Frank Finlay, Barry Foster, Christian Roberts) – Classic Movie Review 4031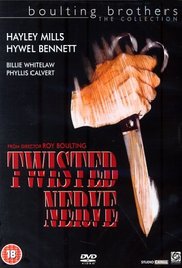 The Boulting brothers make a risky dabble in the prejudices of popular psychiatry for director Roy Boulting's crudely done though interesting 1968 British chiller, reuniting young stars Hywel Bennett and Hayley Mills from their hit film The Family Way.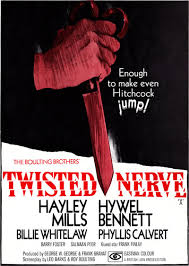 This time Bennett and Mills play the deeply troubled, wealthy young Martin Durnley and Susan Harper, the girl he befriends in a friendship that soon turns into an obsession. Martin doesn't stand a chance, what with a mother who treats him like a child, a stepfather who hates him and a brother with Down's Syndrome in an institution.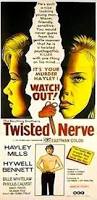 Martin doesn't have to fool Susan into thinking that he is mentally ill – he retreats into an alternate personality of six-year-old Georgie. When Susan starts to get concerned, Martin/Georgie embarks on a killing spree so that he can murder his stepfather, with Susan as the next target.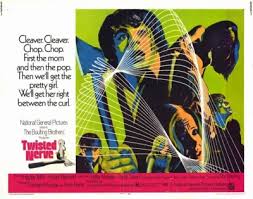 The territory is murky and the tone is wrong, making it just as poor as a thriller as a contribution to mental health harmony. The overstated performances of Bennett and Mills are understandable in the circumstances, though Phyllis Calvert and Billie Whitelaw bring some considerable dignity to the movie as the two mothers, Bennett's and Mills's respectively. Indeed, Whitelaw won a Bafta that year for her performances in this movie and Charlie Bubbles.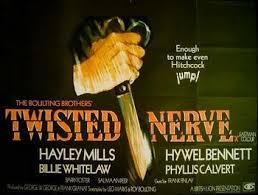 Alas Twisted Nerve fails far short when it foolishly seems to compare itself with the work of Alfred Hitchcock through working in his trademark territory and style, and even risking the use of his favourite composer Bernard Herrmann.
It also stars Frank Finlay as Henry Durnley and Barry Foster as Gerry Henderson.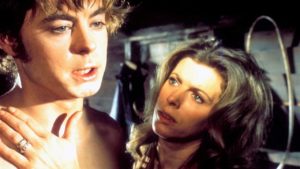 Also in the cast are Salmaan Peerzada [Peer], Gretchen Franklin, Christian Roberts, Thorley Walters, Timothy West, Russell Napier, Timothy Bateson, Basil Dignam, Hazel Bainbridge, Mary Land, Michael Cadman, Clifford Cox, Robin Parkinson, Richard Davies, Brian Peck, Mollie Maureen, Marianne Stone and Russell Waters.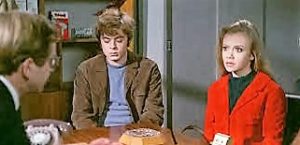 The screenplay is by Leo Marks and Roy Boulting, from an idea and story by Roger Marshall, the cinematography is by Harry Waxman, the production is designed by Albert Witherick and the film is executive produced by John Boulting.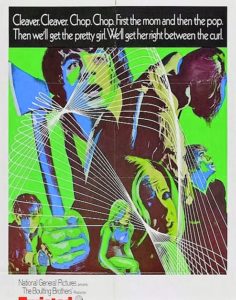 Christian Roberts is best remembered for his role as the rebellious Denham in To Sir with Love, as well as in The Anniversary (1968), Twisted Nerve (1968), The Desperados (1969), The Adventurers (1970), The Mind of Mr Soames (1970) and The Last Valley (1971).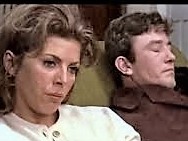 Billie Whitelaw – remarkable in Charlie Bubbles (1967), Alfred Hitchcock's 1972 Frenzy and as Mrs Blaylock in the 1976 The Omen – died on 21 December 2014, aged 82. 
© Derek Winnert 2016 Classic Movie Review 4031
Check out more reviews on http://derekwinnert