Triumph of the Will [Triumph des Willens] ***** (1935, Adolf Hitler, Hermann Göring, Martin Bormann, Joseph Goebbels, Rudolf Hess, Heinrich Himmler, Reinhard Heydrich) – Classic Movie Review 4476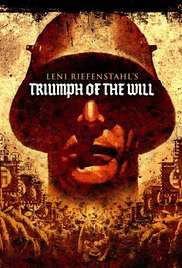 'Heil! Heil! Heil!' Producer-writer-director Leni Riefenstahl's legendary infamous 1935 Nazi film of the Third Reich's 1934 Nuremberg Rally is astonishing as documentary and frightening as propaganda, though Riefenstahl has long maintained its 'purity' solely as an impressionistic record of the rally.
Incredibly powerful, often visually beautiful, poetic rabble-rousing, this terrifying film was long outlawed in case it would encourage neo-Nazism, and it is easy to see why. When all the marching stops and the speeches begin, it does loosen its grip, though the appearance of Adolf Hitler at the rally and his ranting delivery are still as scary as they are riveting, evoking memories of a demonic Charles Chaplin as Hynkel, the dictator of Tomania, in The Great Dictator (1940).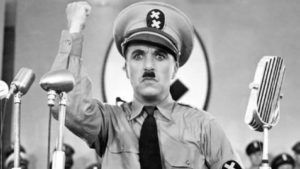 Now the film is a riposte to anyone who thinks that propaganda cannot also be art, but back in 1935 it should have been viewed as a terrible warning. Certainly, it is amazing viewed purely as cinema, for its outstanding black and white cinematography by Sepp Allgeier and editing. It is still brilliantly uncomfortable viewing. Its awful parade of evil includes appearances by Hermann Göring, Martin Bormann, Joseph Goebbels, Rudolf Hess, Heinrich Himmler, Reinhard Heydrich and other top Nazi party officials.
To be clear, it starts: 'The documentary of the Reich Party Congress, 1934 – Produced by order of the Führer. On September 5, 1934, 20 years after the outbreak of the World War, 16 years after Germany's Suffering, 19 months after the beginning of the German Rebirth, Adolf Hitler again flew to Nuremberg to review the assembly of his faithful followers.'
At the same time in Britain, film-makers were making a different kind of triumph, The Triumph of Sherlock Holmes (1935). Now that makes you think, doesn't it?
© Derek Winnert 2016 Classic Movie Review 4476
Check out more reviews on http://derekwinnert.com