The Triumph of Sherlock Holmes *** (1935, Arthur Wontner, Ian Fleming, Lyn Harding, Roy Emerton, Leslie Perrins, Charles Mortimer, Michael Shepley) – Classic Movie Review 4477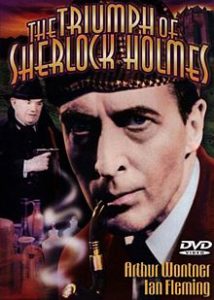 Director Leslie S Hiscott's 1935 entertaining British mystery thriller stars the excellent Arthur Wontner, who is back for his fourth of his five ideal performances as Sherlock Holmes in this tale which is a satisfying and very accurate adaptation of Sir Arthur Conan Doyle's novel The Valley of Fear. That is Doyle's fourth and final Holmes novel, inspired by the Molly Maguires and Pinkerton agent James McParland, and first published in the Strand Magazine between September 1914 and May 1915. However, like all Wontner's films as Holmes, it has a then contemporary Thirties setting.
In the screenplay by H Fowler Mear, Cyril Twyford and Wontner, Sherlock Holmes and Dr Watson come out of retirement to investigate and reveal the weird facts behind mysterious revenge murders of coal miners.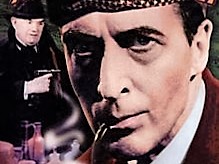 Holmes and Watson find members of an American criminal organisation called The Scowrers have asked Holmes's arch nemesis Professor Moriarty to wreak vengeance on undercover detective informer John Douglas (Leslie Perrins), who landed them in prison.
A flashback sequence pitting Douglas against the Scowrers  is based on Pinkerton operative James McParland's infiltration of the Molly Maguires in the 1870s.
Ian Fleming is again memorable as Dr Watson, and Lyn Harding (taking over the role from Norman McKinnel) gets more to do this time in a fine study in villainy as evil mastermind Professor Moriarty, while Charles Mortimer takes over the role of Inspector Lestrade from Philip Hewland.
Wonter's age at 59 was too difficult to hide, especially as he dumped the toupée that he wore in the first three films to hide his bald spot, so that is why Holmes is shown as coming out of retirement.
Also in the cast are Jane Carr as Ettie Douglas, Minnie Rayner as housekeeper Mrs. Hudson, Michael Shepley, Ben Welden and Roy Emerton, with Conway Dixon as Ames, Wilfrid Caithness as Colonel Sebastian Moran, Edmund D'Alby as Captain Marvin and Ernest Lynds as Jacob Shafter.
It runs 84 minutes but it was cut to 75 minutes in the US. It is available on DVD and free on the Internet Archive.
Wontner was first cast at the age of 56 in the role for The Sleeping Cardinal in 1931 after having been told for years that he resembled Doyle's character, though Holmes retired at 50 in the novels. It was followed by The Missing Rembrandt (now a lost film) and The Sign of Four: Sherlock Holmes' Greatest Case.
The film received rave reviews and popular acclaim, leading to a final film, Silver Blaze, in 1937.
In October 2014 it was announced that Sherlock Holmes, a long believed lost 1916 feature starring stage performer and playwright William Gillette as Holmes, has been discovered in the vaults of the Cinémathèque Française.
© Derek Winnert 2016 Classic Movie Review 4477
Check out more reviews on http://derekwinnert.com