Tread Softly Stranger *** (1958, George Baker, Terence Morgan, Diana Dors) – Classic Movie Review 5635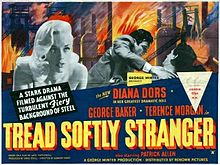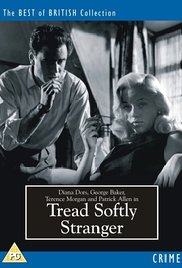 Director Gordon Parry's underrated realist 1958 British thriller stars George Baker and Terence Morgan as English North country industrial town brothers Johnny and Dave Mansell, both in love with the irresistibly sexy temptress Calico (Diana Dors), who decide to rob a steel mill's payroll.
Producers George Minter and Denis O'Dell's screenplay is adapted from the stage play Blind Alley by Jack Popplewell, but admirably the film isn't stagey at all. Parry's gritty, gloomy crime drama is dourly acted by good people who put their very considerable talents behind it.
The iconic Fifties cast is certainly more than worth a little look, and, also on the plus side, the ending may come as a surprise and, above all, the movie is extremely nicely photographed in black and white by Douglas Slocombe in film noir style as an early example of the British kitchen sink realist films of the day, using Rotherham for the extensive location filming.
The story unfolds in the Yorkshire steel town of Rawborough whence Johnny has returned after mounting large gambling debts in London, moving into a small flat with Dave, a fraudulent steel mill clerk, and Dave's nightclub hostess girlfriend Calico.
It is the tough and resourceful good-time girl Calico who comes up with the plan for the brothers to rob the payroll at Dave's workplace to steal enough money to cover Dave's fraud and Johnny's debts.
It was a mild box-office hit, though in 1958 viewed simply as a yet another typical crime potboiler. But Slocombe's cinematography, with its authentic feel of working life in a Fifties UK steel town, has given it lasting value and appeal, as its first DVD release in the UK in 2008 showed. The slight downside is the lack of Yorkshire accents and the unrealistically portrayed nightclub, both damaging the carefully constructed realism.
Also in a fine cast are Wilfrid Lawson, Patrick Allen, Jane Griffiths, Joseph Tomelty, Maureen Delaney, Thomas Heathcote, Russell Napier, Norman Macowan, John Salew, Norman Pierce, Michael Golden, Andrew Keir, Jack McNaughton, George Merritt, Hal Osmond, Timothy Bateson, Terry Baker, Patrick Crean and Sandra Francis.
It was scored by Tristam Cary and edited by Anthony Harvey.
© Derek Winnert 2017 Classic Movie Review 5635
Check out more reviews on http://derekwinnert.com