Training Day ***½ (2001, Denzel Washington, Ethan Hawke, Scott Glenn, Harris Yulin, Cliff Curtis, Dr Dre, Snoop Dogg, Macy Gray, Eva Mendes) – Classic Film Review 970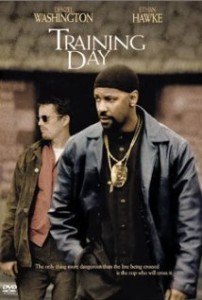 Director Antoine Fuqua's tough, well-made but depressing 2001 LA police thriller stars Ethan Hawke and Denzel Washington, who land a couple of really showy roles as good cop, bad cop. They are rookie Jake Hoyt and seasoned Detective Alonzo Harris.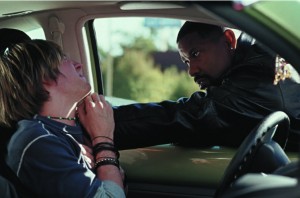 On his very first day as a narcotics officer, rookie cop Hawke observes that undercover veteran cop Washington isn't very nice at all. Hawke gives an effective, low-key performance, and earned an Oscar nomination as best supporting actor, while Washington enjoys himself in a flashy display of a man gone to the dogs, winning a surprise best actor Oscar, for a capable but only moderate performance as the star of a capable but only modest movie.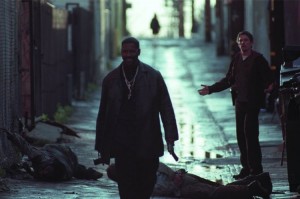 The carefully crafted film at first strains and then later loses credibility as we discover the ridiculously appalling depths of Washington character's depravity – it turns out he's in league with the Russian Mafia. Washington's spent so many years carving out an irreproachable image as a good guy that it is hard to accept him in this role at all.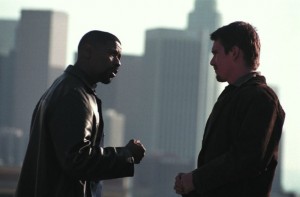 You can see why he'd like a change of pace, but some more subtle, ambiguous portrait of villainy would have been the better way to go. David Ayer's screenplay is potent but it certainly isn't subtle.
Still, the tense atmosphere, the feisty, well-staged action, Washington's showy turn and Hawke's intense display of earnest sincerity keep Training Day motoring along quite nicely. So do the support performances of a notable ensemble.
Also in the cast are Scott Glenn, Harris Yulin, Cliff Curtis, Dr Dre, Snoop Dogg, Macy Gray, Eva Mendes, Tom Berenger, Raymond J Barry, Charlotte Ayanna, Nick Chinlund and Raymond Cruz.
Washington and Hawke reunited with the director for the remake of The Magnificent Seven (2016). Washington also made The Equalizer (2014) with Fuqua.
© Derek Winnert 2014 Classic Movie Review 970 derekwinnert.com