They Dare Not Love ** (1941, George Brent, Martha Scott, Paul Lukas) – Classic Movie Review 4751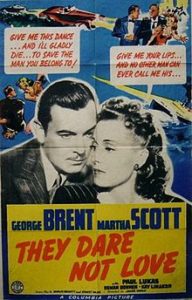 Austrian aristocrat Prince Kurt von Rotenberg escapes to the US when Germany annexes Austria in 1938, but a Nazi agent seeks him out and tries to neutralise him as he is a rallying point for Austrian dissidents. The Nazi agent initially schemes to get the Prince married to an American woman so that he will stay in the States, but then he tries to make him come back to his Austrian homeland. Eventually von Rotenberg strikes a deal to return home in exchange for Austrian prisoners.
An interesting, but iffy dramatically wartime thought and message piece, this doom-laden 1941 wartime romantic drama turned out to be the final released feature film offering from director James Whale (Frankenstein, The Bride of Frankenstein, The Invisible Man).
George Brent is oddly cast and dull and uncomfortable as the foreign prince, but star support is solid from Martha Scott, as Marta Keller, a beautiful Austrian émigré he must leave behind, and from Paul Lukas, as the German agent Baron von Helsing. It also stars Roman Bohnen as Baron Shafter, Kay Linaker as Barbara Murdoch, Egon Brecher as Marta's father, Edgar Barrier as Captain Wilhelm Ehrhardt, and Frank Reicher as the Captain, all them particularly effective .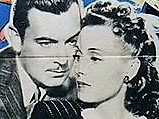 Lloyd Bridges appears in an early bit part as a humourless blond Nazi officer and Peter Cushing briefly plays Sub-Lieutenant Blackler.
Also in the cast are Sig Arno, Leon Belasco, Stanley Brown, Gregory Gaye, Georges Renavent, Bodil Rosing, Hans Schumm, Philip Van Zandt, Frederick Vogeding, Charles Wagenheim, Cy Kendall, Eddie Fetherstone, Jack Chefe, Leslie Denison and Philo McCullough.
Whale left the shoot before the end of production after disagreements, and Victor Fleming and Charles Vidor had a hand in directing some scenes. Apart from an unreleased segment (Hello Out There) of RKO's 1952 portmanteau movie Face to Face, not included in the released film, Whale gave up direction for painting, and was found mysteriously drowned in his own swimming pool in 1957. The Whale story is fancifully told in Gods and Monsters (1999).
It is written by Ernst Vajda and Charles Bennett, who loyally supported the director, saying his firing was 'utterly ridiculous, because James Whale was a magnificent director'.
© Derek Winnert 2016 Classic Movie Review 4751
Check out more reviews on http://derekwinnert.com