These Three **** (1936, Miriam Hopkins, Merle Oberon, Joel McCrea) – Classic Movie Review 5684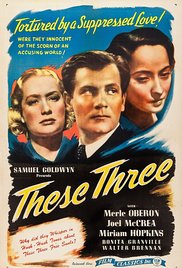 Because of the strict movie censorship rules of the Thirties, Lillian Hellman's lesbian Broadway play The Children's Hour couldn't be filmed properly until 1962, when it was filmed under its proper title of The Children's Hour.
So here in 1936, it is nervously and anonymously renamed These Three, and screen-writer Hellman and producer Samuel Goldwyn ditch the play's lesbian theme and turn it instead into a heterosexual love triangle tale. The reworked story is now about a malicious, vindictive child (Bonita Granville) who tells her grandmother (Alma Kruger) that Dr Joe Cardin (Joel McCrea), the fiancé of her school teacher Karen Wright (Merle Oberon) is having an affair with another teacher, Martha Dobie (Miriam Hopkins).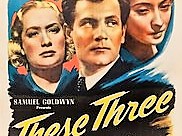 Nevertheless, censored though it is, it makes for intelligent, gripping, intense entertainment, carefully scripted by Hellman and well made by craftsman William Wyler (who directed both versions). It may seem a shade dated but not unattractively so.
There are extremely sprightly performances by the adults, giving stylish, involving acting, and a show-stealing one by 13-year-old Best Supporting Actress Oscar-nominated Granville – and these performances have not faded at all. Old and heavily censored as it is, it is still better film than the 1962 remake.
Also in the cast are Catherine Doucet, Marcia Mae Jones, Carmencita Johnson, Mary Anne Durkin, Margaret Hamilton, Walter Brennan, Joan Barclay, Al Bridge, Lottie Williams, Anya Taranda, Frank McGlynn Sr, Jerry Larkin and Mary Louise Cooper.
© Derek Winnert 2017 Classic Movie Review 5684
Check out more reviews on http://derekwinnert.com